This post may contain affiliate links, which won't change your price but will share some commission.
Kicking off week 5 of our celebration of 12 Weeks of Winter Squash are these fabulous scones. I first made these two years ago, and I've been dreaming about them ever since. They're light and tender and fluffy and packed with delicious pumpkin flavor. I used 2% milk instead of half and half and they were just fine. Making a batch of these reminds me that I need to make scones more often. Yum! For more winter squash recipes, check out the roundup below the link. And if you make anything tasty with winter squash this week, feel free to join us!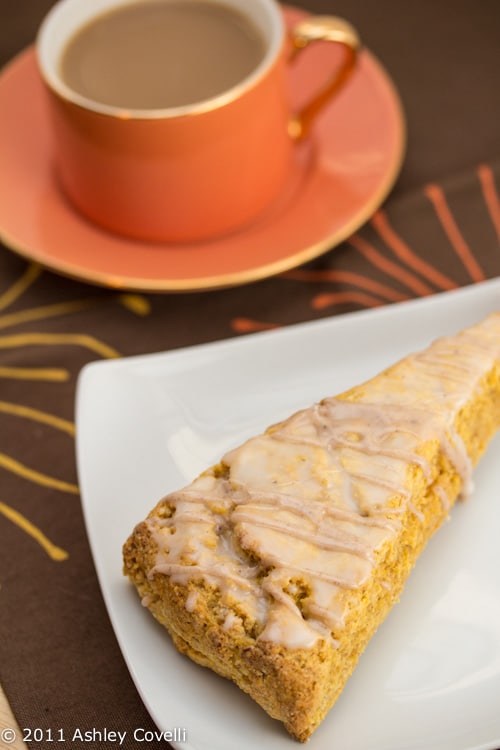 Starbuck's Pumpkin Scones
RecipeGirl.com (Adapted from Top Secret Recipes)
Yield: 6 scones
Prep Time: 30 min Cook Time: 15 min
More tender and delicious than the original...
SCONES:
2 cups all-purpose flour
¾ cup granulated white sugar
1 tablespoon baking powder
½ teaspoon salt
½ teaspoon ground cinnamon
½ teaspoon ground nutmeg
¼ teaspoon ground cloves
¼ teaspoon ground ginger
½ cup canned pure (unsweetened) pumpkin
3 tablespoons half and half cream
1 large egg
6 tablespoons cold butter, cut into cubes
PLAIN GLAZE:
½ cup powdered sugar (sifted)
1 tablespoon milk (any kind)
SPICED ICING:
¾ cup powdered sugar (sifted)
1 to 2 tablespoons milk (any kind)
¼ teaspoon ground cinnamon
⅛ teaspoon ground nutmeg
pinch of ground ginger
pinch of ground cloves
Directions:
1. Preheat oven to 425°F. Spray baking sheet with cooking spray or line with parchment paper. Give it a light dusting of flour on top of that.
2. In a large bowl, whisk together dry ingredients (through ginger).
3. In a separate bowl, whisk together pumpkin, half and half and egg.
4. Use a pastry cutter or two knives to cut butter into the dry ingredients. Continue cutting until the mixture resembles fine crumbs. (You may also use a food processor for this step. Pulse until the mixture resembles fine crumbs).
5. Fold wet ingredients into dry ingredients, then form the dough into a ball. The dough will be wet, but if it seems super sticky... just go ahead and sprinkle a little more flour into the dough until it's easier to handle. Remember, you want it to be somewhat sticky, and that's okay- but you also don't want it to stick to the baking sheet. Pat out dough onto the lightly floured baking sheet and form it into a 1-inch thick rectangle that is about 9-inches long and 3-inches wide. Use a large knife or a pizza cutter to slice the dough twice through the width, making three equal squares. Cut through the three squares diagonally so that you have 6 triangular slices of dough. Gently pull the triangles apart, leaving about ½-inch space between each one.
6. Bake 14 to 16 minutes on prepared baking sheet. Scones should begin to turn light brown.
7. While scones are cooling, prepare plain glaze by whisking ingredients in a medium bowl. Mix until smooth.
8. When scones are cool, use a knife to cut them apart and then pull them apart so that they are ready for glazing. Use a brush to paint a coating of the glaze over the top of each scone.
9. As the white glaze firms up, prepare spiced icing by whisking the ingredients in another medium bowl until smooth. Drizzle this thicker icing over each scone (or brush it on) and allow the icing to dry before serving.
Big Flavors Rating: 5 Stars