This post may contain affiliate links, which won't change your price but will share some commission.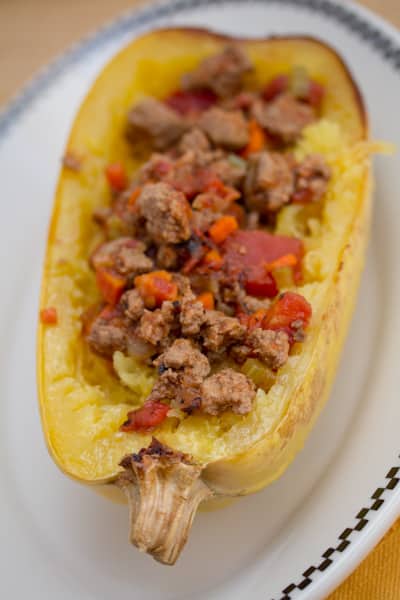 I picked up a spaghetti squash from the store, and wanted to use up some of the things we had in the fridge and pantry at home to make a sauce to go with it. This turned out really tasty! Thank goodness, because I haven't had the energy to cook much lately, and I didn't want to be disappointed when I finally got around to it. I used black garlic in the sauce, because some friends had given us a few cloves a few weeks ago when we had dinner at their house. The taste is kind of nutty, and we really liked it. And it's fermented and super soft, so it melts down into the sauce, kind of like anchovies do. I only used 1 squash, so we're going to use the leftover sauce over some pasta most likely. This was a nice low carb option!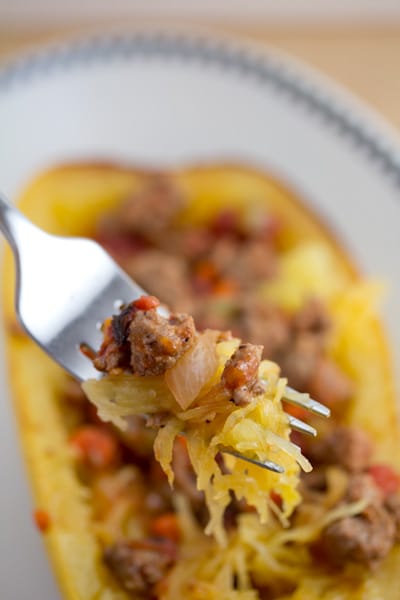 Spaghetti Squash with Turkey, Fire Roasted Tomato and Black Garlic Sauce
Ashley Covelli
Serves 4
2 spaghetti squash, cut in half lengthwise, seeds removed
extra-virgin olive oil
1 small white onion, diced small
2 carrots, peeled and diced small
2 stalks celery, diced small
bay leaf
2 cloves black garlic
salt and pepper
1 pound ground turkey
14.5 oz can diced fire-roasted tomatoes
water
1-2 T balsamic vinegar
Preheat oven to 350°F. Line an ovenproof pan or broiler tray with foil and drizzle with olive oil. Place squash on the foil cut side down, and bake for 45 minutes.
Heat 2T oil in a large pan over medium heat. Add onion, carrot and celery and sauté for a minute or two. Add bay leaf and black garlic and season with salt and pepper. Sauté all of this until the veggies soften, using your spoon or spatula to smush the black garlic down to get it to melt into the rest of the ingredients.
Push the veggies to one side of the pan and add the turkey to the empty side. Brown the turkey, breaking it up and flipping it around until it's brown all over. Drain any excess fat and then stir the turkey and veggies together. Add the tomatoes to the turkey mixture. Fill the can about halfway with water and add that to the mixture as well. Reduce the heat and cover, simmering until the tomatoes are heated through.
Remove cover, season with salt and pepper and add in balsamic vinegar to taste. Turn up the heat and let it bubble away until it reaches a consistency you like. Remove the bay leaf and serve over shredded spaghetti squash.
Big Flavors Rating: 4 Stars