This post may contain affiliate links, which won't change your price but will share some commission.
I've always loved corn on the cob. I mean, I grew up in Indiana with aunt and uncle who had a farm with the best sweet corn on Earth, so how could I not? Lately, I've been asking Dino to throw a few extra cobs on the grill any time he fires it up so that I have some delicious, smoky grilled corn to use for the next few days. This dish was one great way to use leftover grilled corn. I tossed a few ingredients together to make a salsa while the shrimp marinated, and then it got to hang out while I cooked the shrimp. We really liked the flavors in this dish, and the salsa was the perfect accompaniment. I served this on top of quinoa, but it would be great over rice or in taco shells or lettuce wraps, too! You can substitute regular cooked corn if you don't want to fire up the grill, but you will miss out some really nice charred flavor.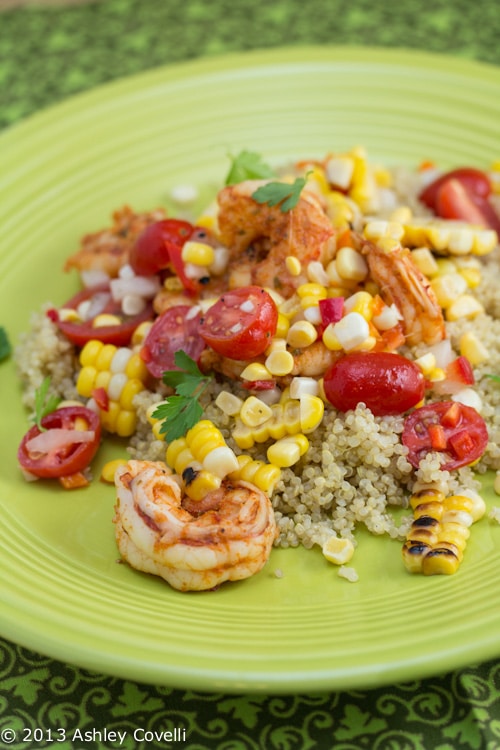 Smoky Shrimp with Charred Corn Salsa
Ashley Covelli
For the shrimp:
1 pound large shrimp, peeled and deveined (I used Argentinean red shrimp)
3 tablespoons extra-virgin olive oil
2 cloves garlic, minced
1 teaspoon smoked Spanish paprika
½ teaspoon ground cumin
½ teaspoon dried oregano
Kosher salt and freshly cracked black pepper, to taste
For the salsa:
Kernels from 3 ears of grilled corn
1 cup grape or cherry tomatoes, halved
¼ cup sweet onion, finely diced
4 mini bell peppers (yellow, red and/or orange), finely diced (or sub ½ a full-sized bell pepper)
1 tablespoon white wine vinegar
2 tablespoons extra-virgin olive oil
1 tablespoon lemon juice
Cooked quinoa, rice, taco shells or lettuce, for serving
Parsley, for garnish
Mix all of the ingredients for the shrimp in a large bowl, cover and put in the refrigerator for 30 minutes. While that marinates, mix all of the salsa ingredients in a large bowl.
Heat a large, non-stick skillet over moderate heat. Add the contents of the shrimp bowl and cook, stirring occasionally, until shrimp are pink and just cooked through. It should only take a few minutes.
To serve, place shrimp on top of cooked quinoa or rice and top with salsa. This would also be great in tacos or lettuce wraps. Enjoy!
Big Flavors Rating: 4 Stars