This post may contain affiliate links, which won't change your price but will share some commission.
This year, I decided to try making Shepherd's Pie for St. Patrick's Day. It turned out really good! I used ground beef, and a mix of potatoes and parsnips for the top. The topping wasn't firm enough to hold a crosshatch pattern, so I didn't bother. This didn't look too pretty, and it was so hot that the steam wasn't letting my camera focus too well. It was hearty and comforting meal, and the two of us almost finished the entire pan!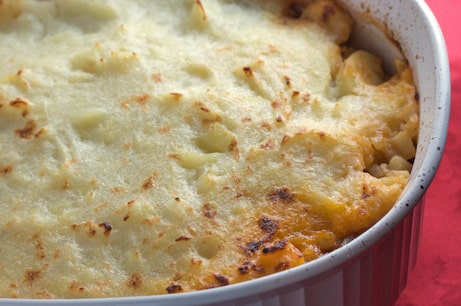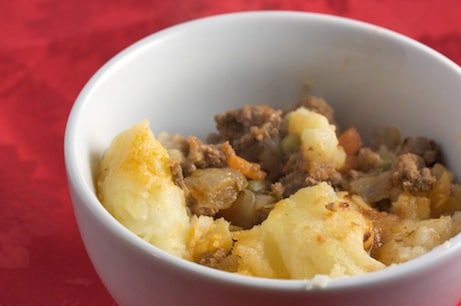 Shepherd's Pie
Cookie October 2007
yield: Makes 6 servings
active time: 30 minutes
total time: 1 hour
Beloved by the British, this rich, protein-filled dish is traditionally made with a mashed-potato crust. For a sweeter one, use a blend of potatoes, parsnips, and carrots.
1 tablespoon vegetable oil
1 large onion, peeled and chopped
1 large carrot, peeled and chopped
1 pound ground lamb (or substitute half with another ground meat)
1 cup beef or chicken broth
1 tablespoon tomato paste
1 teaspoon chopped fresh or dry rosemary
1 tablespoon chopped Italian parsley
1 cup frozen peas
2 pounds russet potatoes, peeled and cut into chunks
6 tablespoons unsalted butter
½ cup milk (any fat content)
Kosher salt to taste
1. Preheat oven to 375°F.
2. In a large sauté pan over medium-high heat, heat the oil, then add the onion, carrot, and meat. Cook until browned, 8 to 10 minutes.
3. Drain the fat and add the broth, tomato paste, and herbs. Simmer until the juices thicken, about 10 minutes, then add the peas.
4. Pour the mixture into a 1 ½-quart baking dish; set aside.
5. Meanwhile, bring the potatoes to a boil in salted water. Cook until tender, about 20 minutes; drain.
6. Mash the potatoes with the butter, milk, and salt.
7. Spread them over the meat mixture, then crosshatch the top with a fork.
8. Bake until golden, 30 to 35 minutes.
Tip • Instead of using a baking dish for the Shepherd's Pie, keep the filling in the (ovenproof) sauté pan in which you cook it, top with the crust, and bake it all in the oven for a skillet version that won't dirty another dish.
MacGourmet Rating: 4 Stars