This post may contain affiliate links, which won't change your price but will share some commission.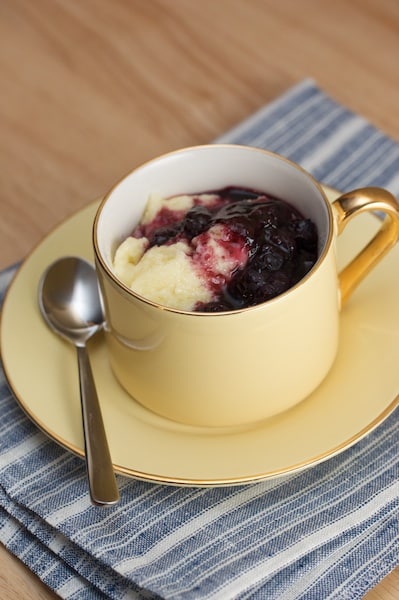 We recently received a few containers of blueberries from a friend's garden. They've been waiting in the freezer, and I decided to use the first batch on another Sardinian recipe from Lidia's book. It can be tricky finding semolina flour - I almost missed it at my grocery store. It says "pasta flour" and then in tiny print, fine semolina and durum. When making it, the semolina mixture came together much quicker than 10 minutes for me, and it didn't really lose much fat when I drained it. I'd probably skip that part next time. I think the whole batch lost about ¼ teaspoon of fat.
As a side note, I found a lovely linen towel from a shop called The Wheat Market. I ordered it on Thursday, and it was waiting for me at home on Monday! The seller is very nice, and she has some great items.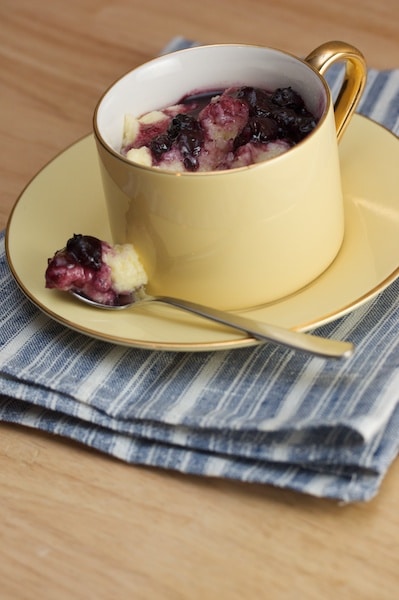 Semolina Pudding with Blueberry Sauce (Mazzafrissa)
Lidia Cooks From the Heart of Italy: A Feast of 175 Regional Recipes - Lidia Matticchio Bastianich and Tanya Bastianich Manuali
Serves 6
For the Blueberry Sauce:
1 pint blueberries, rinsed
⅓ cup honey
Juice of 1 orange, freshly squeezed (about ¼ cup)
For the Semolina Pudding:
2 ½ cups heavy cream
½ teaspoon kosher salt
¾ cup semolina flour
RECOMMENDED EQUIPMENT: A sturdy wire whisk; a fine mesh strainer or sieve, 6 inches wide, or larger
-To make the blueberry sauce: Stir together the blueberries, honey, and orange juice in a small saucepan. Bring to a boil over medium heat, stirring occasionally, then adjust the heat to keep the sauce simmering gently. Cook, uncovered, for 20 minutes, or until the berries break down and the juices reduce to a syrupy sauce. Keep the sauce warm while you make the pudding.
-To cook the semolina: Pour the cream into a medium saucepan, add the salt, and set over medium heat. When the cream comes to a boil, whisk in the semolina, pouring it into the pan gradually, in a thin, steady stream. Continue whisking until all the flour is incorporated. Cook and whisk until the mixture thickens and begins to pull away from the sides of the pan, 10 minutes or so.
-Set the strainer over a bowl, and scrape in the cooked semolina. Let the fat drain into the bowl for at least 5 minutes (or longer, if you wish). The amount of excess fat will vary with the heavy cream; discard any that collects in the bowl.
-Serve the pudding warm or at room temperature, topped with the blueberry sauce.
MacGourmet Rating: 5 Stars