This post may contain affiliate links, which won't change your price but will share some commission.
This warm, steamy, bowl of comfort food is perfect for a cold winter evening. The basil at the end adds the perfect amount of freshness to this dish. Paired with a few pieces of crusty bread that are toasted and rubbed with garlic clove, this is a great meal.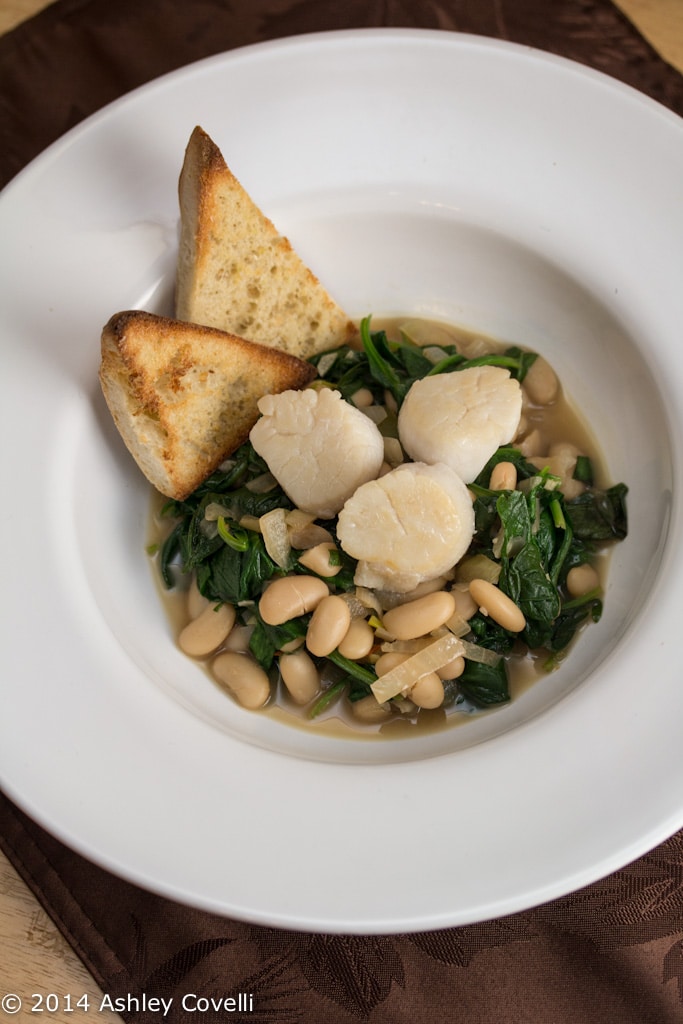 The only issue I had was that my scallops must have still been a little frozen in the center, and I wasn't able to get a good sear on them since liquid was coming out into the pan (even though I patted them dry). There aren't too many things more disappointing than a rubbery, overcooked scallop, so I went ahead and took them out of the skillet when they were cooked through properly instead of worrying about that beautiful sear. And hey - it still tasted wonderful!
Seared Scallops with Warm Tuscan Beans
Cooking Light March 2009
Pair this one-dish seared scallops meal with a side of garlic bread. It's perfect for sopping up every last drop of the delicious sauce.
Yield: 4 servings (serving size: about 4 ounces scallops and ¾ cup bean mixture)
2 tablespoons olive oil, divided
1 ½ pounds sea scallops
¼ teaspoon salt
1 cup prechopped onion
⅛ teaspoon crushed red pepper
2 garlic cloves, minced
¼ cup dry white wine
1 cup fat-free, less-sodium chicken broth
1 (19-ounce) can cannellini beans or other white beans, rinsed and drained
1 (6-ounce) package fresh baby spinach
2 tablespoons chopped fresh basil
1. Heat 1 tablespoon oil in a large nonstick skillet over medium-high heat. Sprinkle scallops evenly with salt. Add scallops to pan; cook 2 minutes on each side or until done. Remove scallops from pan; keep warm.
2. Add remaining 1 tablespoon oil and onion to pan; sauté 2 minutes. Add pepper and garlic; cook 20 seconds, stirring constantly. Stir in wine; cook 1 minute or until most of liquid evaporates. Stir in broth and beans; cook 2 minutes. Add spinach; cook 1 minute or until spinach wilts. Remove from heat; stir in basil.
Grilled garlic bread is great for dipping into the brothy beans. Heat a grill pan over medium heat. Brush 1 tablespoon olive oil evenly over 4 (1-ounce) slices French bread. Add bread to pan; cook 2 minutes on each side or until lightly browned. Rub one side of each bread slice with cut sides of a halved garlic clove.
Amount per serving:
Calories: 314
Fat: 8.7g
Saturated fat: 1.2g
Monounsaturated fat: 5.1g
Polyunsaturated fat: 1.8g
Protein: 33.7g
Carbohydrate: 24.8g
Fiber: 6.1g
Cholesterol: 56mg
Iron: 3.2mg
Sodium: 781mg
Calcium: 112mg
Big Flavors Rating: 4 Stars