This post may contain affiliate links, which won't change your price but will share some commission.
Tender, pan-seared salmon is placed atop a coconut-y cranberry bean and spinach stew, then topped with a sweet-and-tangy tomato chutney.
This was another winning meal from Blue Apron. This dish is bursting with comforting Indian-infused spices. My stew didn't get very thick, but it tasted great. I especially enjoyed the tomato chutney - it would be great paired with a variety of proteins. Yum!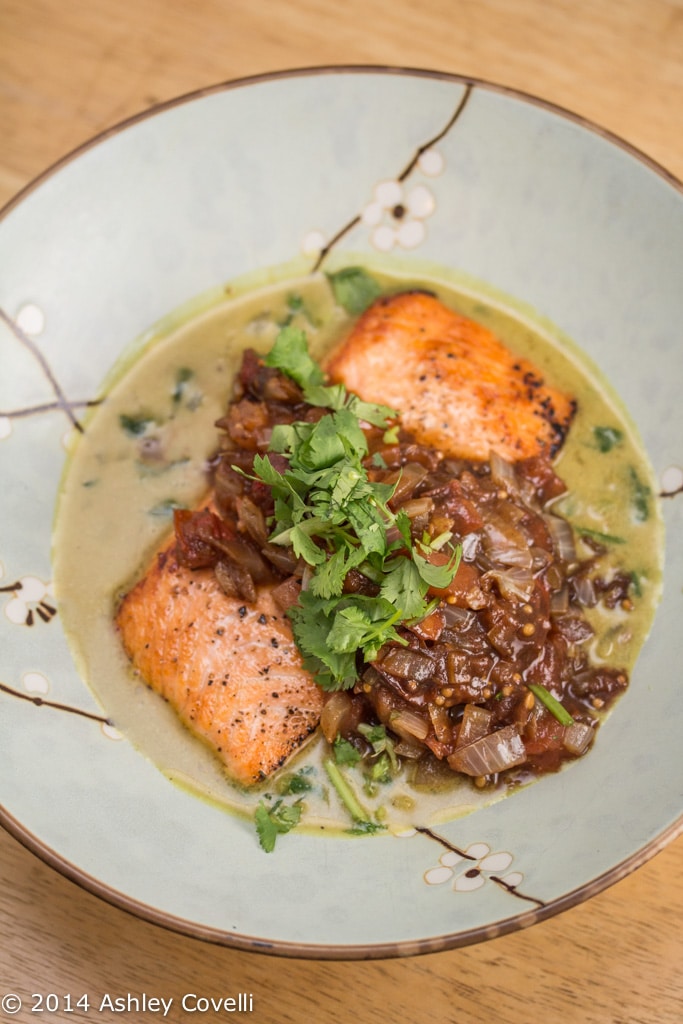 Just a note – the recipes from Blue Apron call for "1 bunch" of herbs, and that correlates to the size of the "bunch" they send if you're using their service (which I'm absolutely in love with!). I'd say their bunches are about 1-2 tablespoons.
4 Ounces Fresh Cranberry Beans
2 Skinless Salmon Fillets
1 Ounce Spinach
1 Bunch Cilantro
1 Tomato
1 Yellow Onion
2 Tablespoons Ghee
1 5.5-Ounce Can Light Coconut Milk
1 Teaspoon Madras Curry Powder
1 Tablespoon Tamarind Concentrate
1 Teaspoon Chutney Spice Blend (Mustard Seeds, Cumin Seeds, Ground Cardamom, Chili Powder)
See Blue Apron for the full recipe.