This post may contain affiliate links, which won't change your price but will share some commission.
This quick and delicious meal from the current issue of Cooking Light was exactly what I needed for dinner on a busy night. I don't like sweet sausage, so I used spicy and it was awesome!
Italian sausage and kale are topped with fresh mozzarella in this quick and simple one skillet wonder!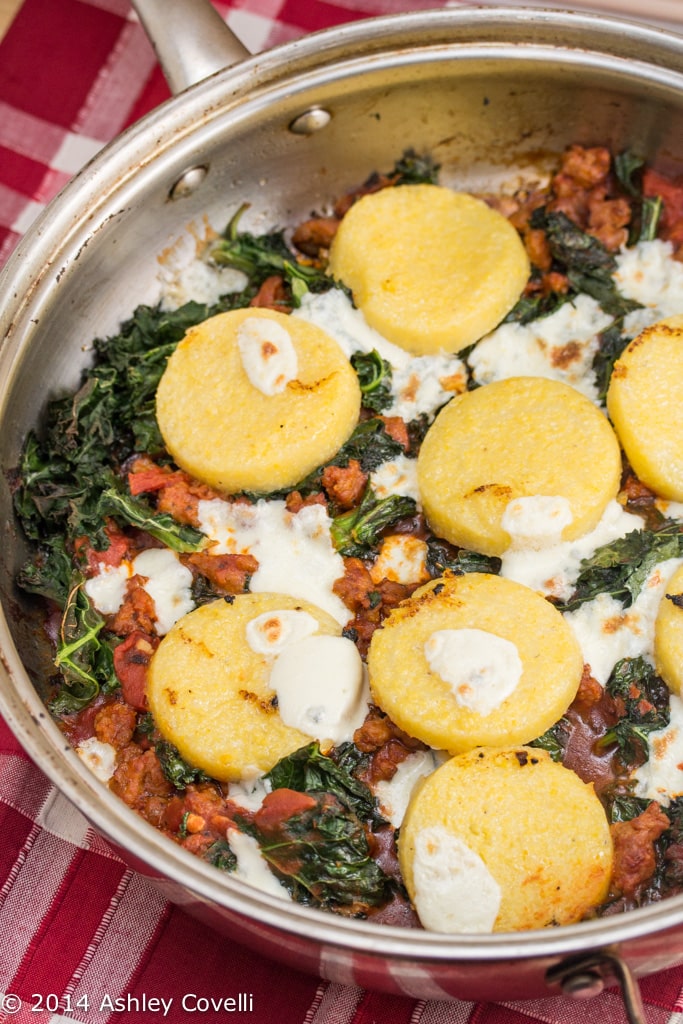 The only trouble I had with this recipe was that the polenta stuck to the pan, so the browned bits didn't stay with the rounds (but they did end up in the sausage/kale mixture afterward). I didn't want to use a nonstick pan because it needs to broil at the end. But it still tasted great!
Side note: I highly recommend topping leftovers with a fried egg, as suggested in the magazine. Pure awesomeness! Thanks to everyone on Instagram for all the love on this one, too!
Sausage and Kale Sauté with Polenta
Cooking Light December 2014
Serves 4 (serving size: 2 polenta slices and about ¾ cup sausage mixture)
1 tablespoon olive oil
4 ounces sweet pork Italian sausage, casings removed
8 ounces prepared polenta, cut into 8 (½-inch-thick) slices
6 ounces prechopped kale
1 tablespoon water
½ teaspoon freshly ground black pepper
1 ½ cups lower-sodium marinara sauce (such as Dell'Amore)
2 ounces fresh mozzarella cheese, torn into small pieces
1. Preheat broiler to high.
2. Heat olive oil in a skillet over medium-high. Add sausage; cook 3 minutes, stirring. Remove sausage. Add polenta to pan; cook 5 minutes. Remove polenta. Add kale, 1 tablespoon water, and pepper to pan. Cover; cook 2 minutes. Uncover; stir in sausage and marinara. Nestle polenta, browned side up, into sausage mixture; sprinkle with cheese. Broil 2 minutes.
Calories 260
Fat 16.6 g
Satfat 5.7 g
Monofat 6.6 g
Polyfat 1.6 g
Protein 10 g
Carbohydrate 18 g
Fiber 3 g
Cholesterol 33 mg
Iron 3 mg
Sodium 408 mg
Calcium 79 mg
Big Flavors Rating: 4 Stars