This post may contain affiliate links, which won't change your price but will share some commission.
Sometimes the simplest things can really knock your socks off. Like roasting sugar snap peas with a little lemon, mint and sea salt.
Sounds innocent enough, but when you first take a bite - KABOOM! We're talking BIG flavor here, people.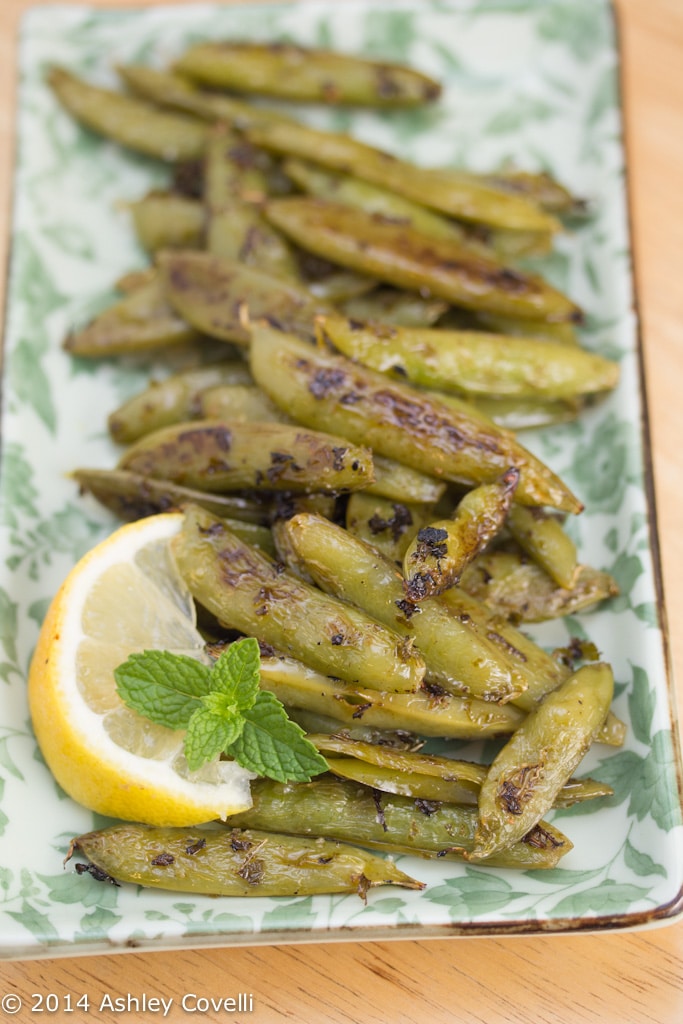 This was simple and insanely addictive. It was a great way to utilize the mint growing in my garden. The lemon and mint added a nice bit of brightness to the dish, and I'm a sucker for anything with a little (or, preferably, a LOT of) garlic.
These peas were the perfect side dish to some Greek marinated shrimp that I made for dinner (recipe coming soon!). This is definitely something I'll be making again and again.
Roasted Sugar Snap Peas with Mint + Sea Salt
With Food and Love
Takes about 20 minutes + serves 2 hungry souls.
a large bunch of sugar snap peas, about 3 heaping cups
1 cup of mint leaves
3 tablespoons olive oil
1 clove garlic
juice from ½ a lemon
¼ teaspoon ground black pepper
generous amounts of sea salt
Heat the oven to 450 degrees.
Wash the snap peas thoroughly and trim up the ends.
In a food processor combine the mint, olive oil, garlic, lemon juice and black pepper. Pulse until all the mint and garlic is finely chopped. Toss the snap peas in the mint and oil mixture. Line a baking sheet with parchment paper and spread them out in an even layer. Roast for 20 minutes, flipping halfway.
Sprinkle with a generous pinch of sea salt + pop 'em back. Go for it, there's good news the entire pod is edible.
Big Flavors Rating: 5 Stars