This post may contain affiliate links, which won't change your price but will share some commission.
It's been a few weeks since I got in on the 12 Weeks of Winter Squash action, and I'm glad to be back! I was excited to cook with buttercup squash for the first time when I found it at the Farmers Market a while back.
This turned out really nicely. I liked the contrast between the soft gnocchi and crunchy almonds. The Parmesan and bacon help add a bit of saltiness, which is a nice compliment to the roasted squash.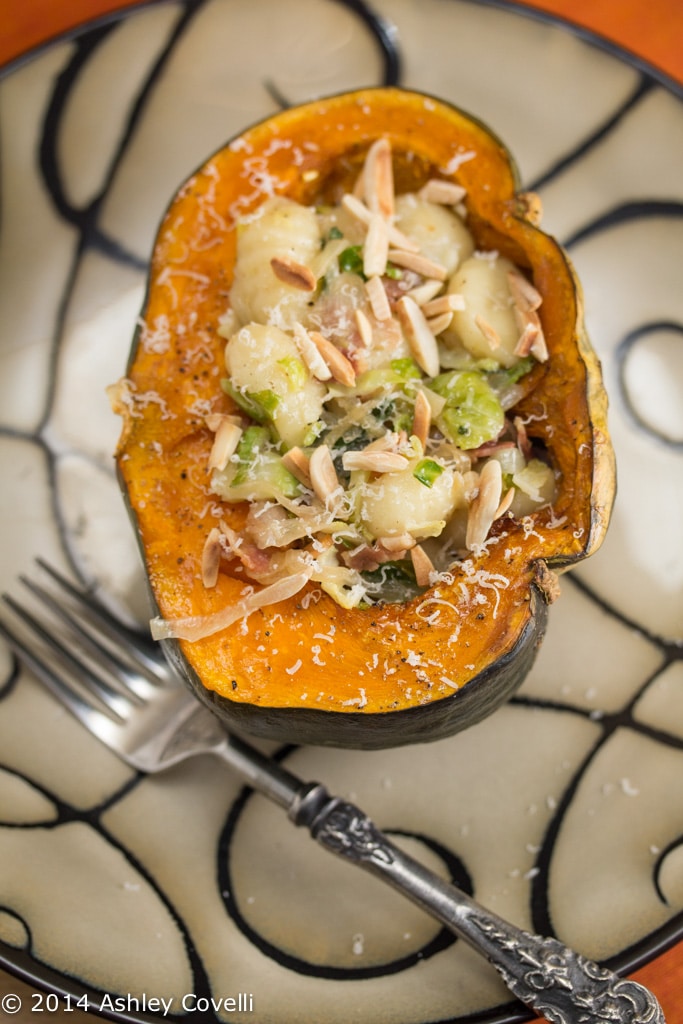 I wasn't super crazy about the flavor of the actual squash - I think I prefer other varieties more. But it was tasty, and this dish would be equally good with a different squash (or even on its own without it).
Roasted Buttercup Squash with Gnocchi, Bacon, Brussels Sprouts + Parmesan
Big Flavors from a Tiny Kitchen - Ashley Covelli
Serves 4
2 buttercup squash, halved, seeds removed
Extra-virgin olive oil
Kosher salt and freshly cracked black pepper
6 slices bacon, diced
1 sweet onion, sliced vertically (about 1 cup)
3 cloves garlic, thinly sliced
2 cups thinly sliced Brussels sprouts
1 ½ teaspoon honey
⅓ cup white wine
¼ cup freshly grated Parmesan cheese, plus more for garnish
1 tablespoon fresh sage, thinly sliced
1 (17.5 ounce) package gnocchi
2-3 tablespoons slivered almonds, toasted, for garnish
Preheat oven to 350°F. Slice a little bit off of the bottom of each squash half so that it can stand, cut side up, on a baking sheet. Drizzle with oil and sprinkle with salt and pepper. Roast until tender, about 40 minutes.
Meanwhile, cook the bacon in a large skillet over medium heat, stirring occasionally. Once it's crispy, remove bacon with a slotted spoon to a paper towel lined plate. Remove all but 2 tablespoons of bacon grease (if you don't have enough, you can supplement with olive oil).
Meanwhile, cook the gnocchi according to package directions, reserving ⅓ cup of the cooking liquid before draining. Add onion and garlic to the bacon drippings and cook until they start to caramelize around the edges. Add Brussels sprouts, season with a few grinds of black pepper, stir, and cook for 1-2 minutes. Add honey, wine and reserved cooking liquid from the gnocchi. Stir in Parmesan and allow to cook until slightly thickened. Remove from the heat.
Toss the cooked gnocchi into the sauce along with sage and cooked bacon. Fill each squash half with some of the gnocchi mixture and sprinkle toasted almonds and extra Parmesan on top for garnish. Enjoy!
Big Flavors Rating: 4 Stars
Interested in checking out what else we've been cooking up for this year's 12 Weeks of Winter Squash?