This post may contain affiliate links, which won't change your price but will share some commission.
This side dish just screams winter comfort food. Never mind the fact that I almost screamed while attempting to cut an acorn squash into rings (no clue how you did that without losing a finger, Joanne!).  I made a few changes based on what I had on hand, and the fact that I could only manage to cut one piece into a ring before my life flashed before my eyes. Seriously... these acorn squash are pretty unwieldy!
Anyhow, I cut the whole recipe in half, as I only had 1 acorn squash to roast. I cut it into ½-inch slices instead of rings, and put it on a baking sheet with the Brussels sprouts. I totally spaced and forgot to add fresh sage to my grocery list, so I added ½ teaspoon of dried, rubbed sage to the oil mixture. I didn't see an amount of oil, so I used around 4 tablespoons.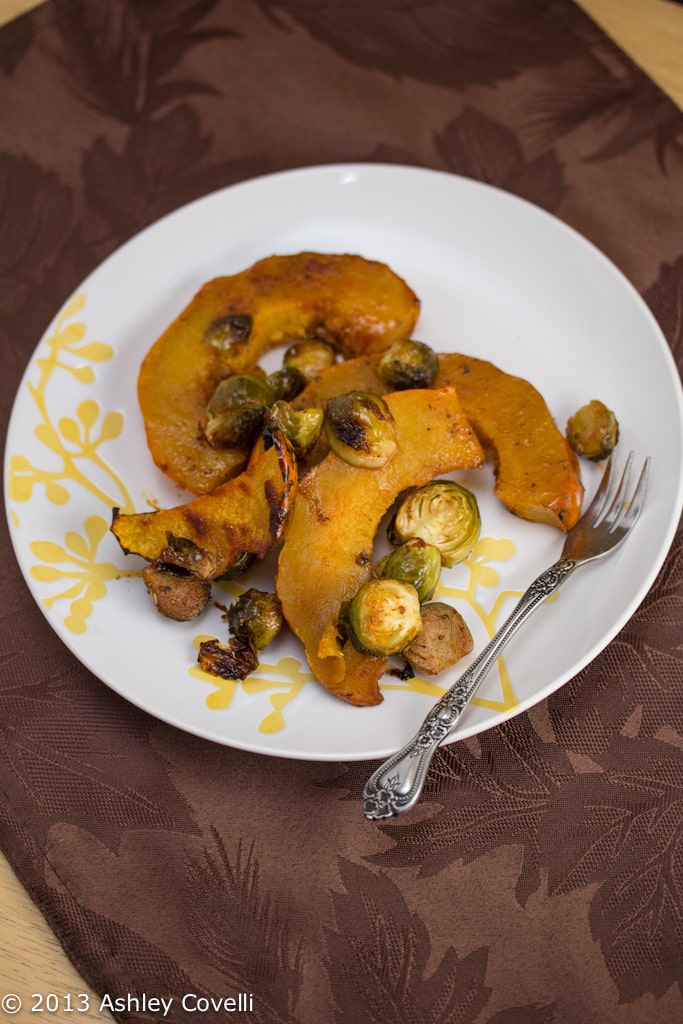 This turned out seriously awesome! The squash is buttery and smooth, and the sprouts get nice and caramelized. I would have never thought to put smoked paprika with sage, and it works so very well! This is sweet and a bit salty and incredibly delicious. Not to mention I had no idea that the skin on acorn squash was edible. Bonus!
I had a feeling it would be wonderful, since Joanne spoke so highly of it, and that girl really knows her winter squash ;). Speaking of which, this is my submission for week 7 of 12 Weeks of Winter Squash. As always, be sure to check out the roundup below, and feel free to add your own recipes if you've enjoyed any winter squash deliciousness this week.
Roasted Acorn Squash and Brussels Sprouts with Honey, Smoked Paprika, and Sage Salt
Eats Well with Others
Yield: 6-8 servings
Serving Size: ⅛th of recipe
2 medium acorn squash, trimmed
1 lb brussels sprouts, trimmed and halved
4 teaspoon honey
2 teaspoon smoked paprika
1 teaspoon kosher salt
4 large sage sprigs (about 16 leaves)
2 teaspoon coarse sea salt
1. Preheat the oven to 350. Slice the squash crosswise into ½-inch rings, scooping out the seeds from the center of each.
2. In a small bowl, whisk together the oil, honey, paprika, and kosher salt. Arrange the squash on a large baking sheet lined with parchment paper and the brussels sprouts on a second baking sheet lined with parchment paper. Brush the honey/oil mix over the acorn squash slices and toss the brussels sprouts with the rest. Place the sage leaves in a small baking pan.
3. Transfer all the pans to the oven. Roast the sage leaves until they are crisp, about 15 minutes. Set aside. Raise the oven temperature to 400. Continue roasting, turning the squash once midway through, for about 30 minutes.
4. Transfer the squash and brussels sprouts to a platter. Crumble the sage in a small bowl and mix with the coarse sea salt. Sprinkle some of the sage salt over the veggies before serving.
Big Flavors Rating: 5 Stars