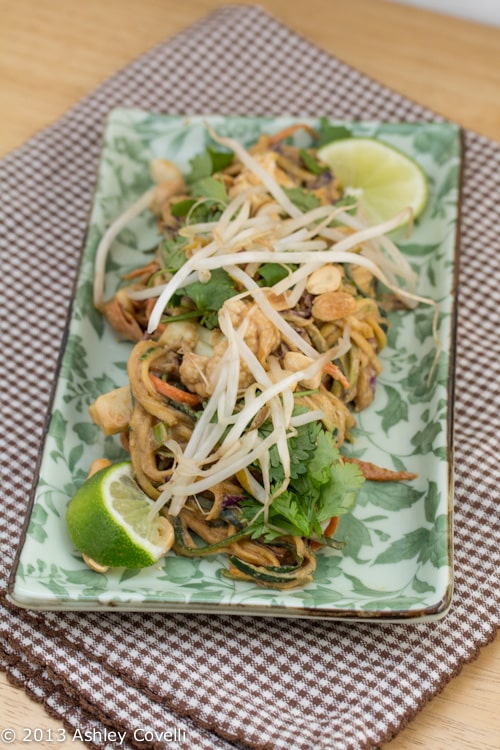 This post may contain affiliate links. Thank you for supporting the brands that keep me creative in my tiny kitchen!
Some friends of ours came over to babysit while Dino and I went out to dinner to celebrate our anniversary. They're newly vegan, and I wanted to make some dinner for them to enjoy while watching our rambunctious toddler. I love pad Thai, but I always figured that fish sauce was key to making it great. I also would have never thought to make it raw! So when I saw that combination, I knew it would be a fun one to try out. And this recipe says it tastes better after it sits in the fridge overnight. Perfect! I decided to make it the day before, and then QC some for lunch before they came over. Win/win! It was really tasty, but I think it tasted more like a satay than a pad Thai. The recipe author says that this recipe is easy, which I only agree with to an extent, because making the veggie noodles can be a hassle, so I'm not categorizing it that way for the purposes of this site. Also, if you want this to be raw, you need to make sure to use raw almond butter, tahini and tamari. The stuff I used wasn't. Anyway, it was a big hit for dinner, and I found a new, vegan, raw and GF friendly recipe to add to my repertoire.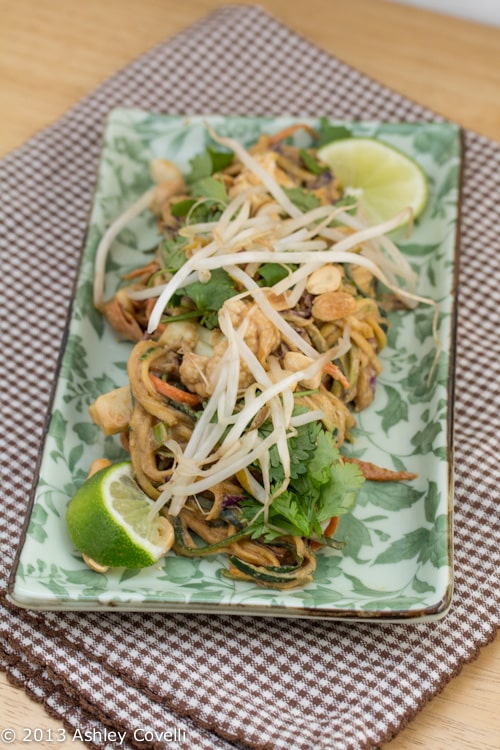 Raw Pad Thai
Vegangela
This easy raw vegan dish uses zucchini and carrots for the "noodles"
Total time: 15 minutes
Serves: 2-3
2 medium zucchini
2 large carrots
2 green onions, chopped
1 cup shredded purple cabbage
1 cup cauliflower florets
1 cup mung bean sprouts or radish sprouts (spicy) (optional)
½ cup crushed peanuts (optional)
½ cup chopped fresh coriander/cilantro (optional)
Sauce
¼ cup tahini
¼ cup almond butter (or cashew butter, or a blend of both)
2 tbsp lime or lemon juice
¼ cup tamari (select a wheat-free version for gluten-free diets)
2 tbsp agave (or maple syrup)
½ tsp garlic, minced
1 tsp ginger root, grated
Instructions
Use a spiralizer (or mandolin or vegetable peeler) to create noodles from the carrot and zucchini. Place them in a large mixing bowl and top with the other vegetables.
Whisk sauce ingredients in a bowl. The sauce will be thick, but will thin out after it's mixed with the vegetables.
Pour the sauce over the vegetables and toss. Best after 1 day in the fridge.
Big Flavors Rating: 4 Stars