This post may contain affiliate links, which won't change your price but will share some commission.
I've been trying to incorporate more raw food into our diet. It's especially tempting now that the weather is starting to warm up. The thought of preparing a meal without heating up the kitchen is very enticing. I find that a lot of raw recipes are smoothies and salads, but I wanted to look into doing more substantial. I've stumbled upon several really inspiring raw food websites, and this soup recipe looked bright and sunny and delicious. Plus, it uses a lot of produce that I tend to have on hand, which is always a bonus. It came together really quickly in the Vitamix, and the texture was beautifully silky. I liked the bit of spiciness that came from the raw onion and garlic, and it was a nice, refreshing lunchtime soup. I'm looking forward to trying out more raw recipes soon!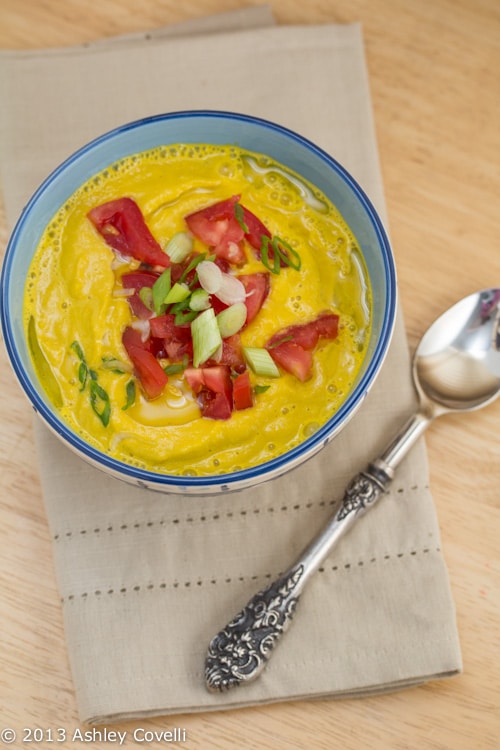 Carrot Avocado Soup
Raw on $10 a Day (or Less)
2 servings ~ $1.69 per serving
1 avocado, chopped ($.78)
4 carrots, peeled and chopped ($.40)
2 ribs celery, chopped ($.30)
½ medium onion, chopped ($.10)
1 clove garlic, pressed ($.05)
½ teaspoon salt
4 tablespoons olive oil ($.40)
1 ½ cups water for blending
½ medium tomato, finely chopped($1.25)
1 green onion, sliced ($.10)
½ teaspoon olive oil
This soup is more hearty than I expected ... quite robust and satisfying, and super simple to make. Coarsely chop all the ingredients to make blending easier. In a blender, add everything but the tomato and scallion and teaspoon olive oil. Puree for a few to several minutes until very smooth. In some blenders, the soup will start to warm up a bit as it processes.
Garnish with chopped tomatoes and scallions, and drizzle with a bit of olive oil.
nutritional information:
calories: 481
fat: 42 gr
carbs: 28 gr
protein: 5 gr
Big Flavors Rating: 4 Stars