This post may contain affiliate links, which won't change your price but will share some commission.
I saw this recipe on an episode of 30-Minute Meals a while back and was really anxious to make it. I've never used apple brandy before, and I've been wanting to try out fennel pollen. This one didn't photograph well at all, but it was tasty. I thought bigger chunks of apples (like the same size as the onions) would have worked better, because they melted down and almost disappeared. The pork was moist and the sauce from the brandy and cider was nice. I made the rice/orzo recipe that she suggested along with this dish, and that was fantastic.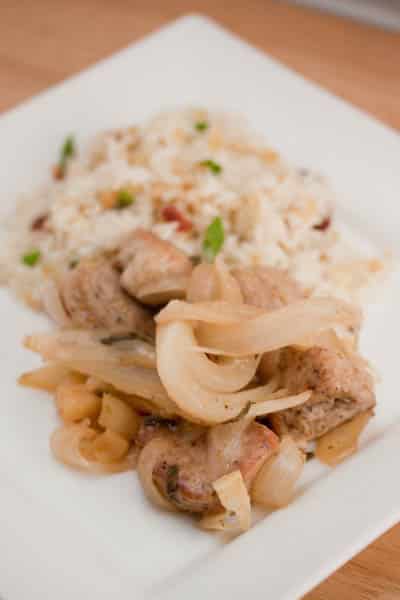 Potted Pork Tenderloin with Sweet Onions and Apple
30-Minute Meals - Rachael Ray
Serves 6
Browned and seasoned pork simmered in a brandy apple and onion broth is a warm and tasty winter or fall dinner. Start your meal with Apple-Scented Fondue and serve with Cranberry-Walnut Rice alongside.
2 pork tenderloins, well-trimmed and cut into large chunks (about 2 ½ pounds)
1 ½ teaspoons ground fennel or fennel pollen
Kosher salt and freshly ground black pepper
Flour, for dredging
2-3 tablespoons extra virgin olive oil (EVOO)
3 tablespoons butter
4 medium onions, cut into thin wedges, root ends attached
2 medium McIntosh apples, peeled and chopped
2 fresh bay leaves
A few sprigs of fresh sage, very thinly sliced
¼ cup calvados
1 cup chicken stock or cloudy apple cider
Season the pork with fennel, salt and pepper and dredge the tenderloins in flour. Heat a few tablespoons EVOO, a couple turns of the pan, in a Dutch oven over medium-high heat. Add the pork and brown the meat. Do this in two batches if your pot size demands it. Use a little extra EVOO if necessary for a second batch.
Remove the browned meat to a plate and add the butter to the pan.
Reduce the heat a bit and add the onions, apples, bay leaves and sage. Season with salt and pepper and cover the pan to sweat the onions for 12-15 minutes, stirring occasionally.
Uncover the pot and raise the heat a bit. When the onions start to brown, add the calvados to the pot. Add the stock, slide the pork back in, and simmer to cook through a few minutes more.
Serve from the hot pot.
Big Flavors Rating: 4 Stars