This post may contain affiliate links, which won't change your price but will share some commission.
A nasty blizzard was headed our way, so I figured a breakfast casserole was in order. You know, because deliciously melty, cheesy breakfasts make everything better. Right?
So I spent about 20 minutes before bedtime sautéing the mushrooms, toasting English muffins, and chopping veggies. I put everything together and popped the casserole into the fridge until morning.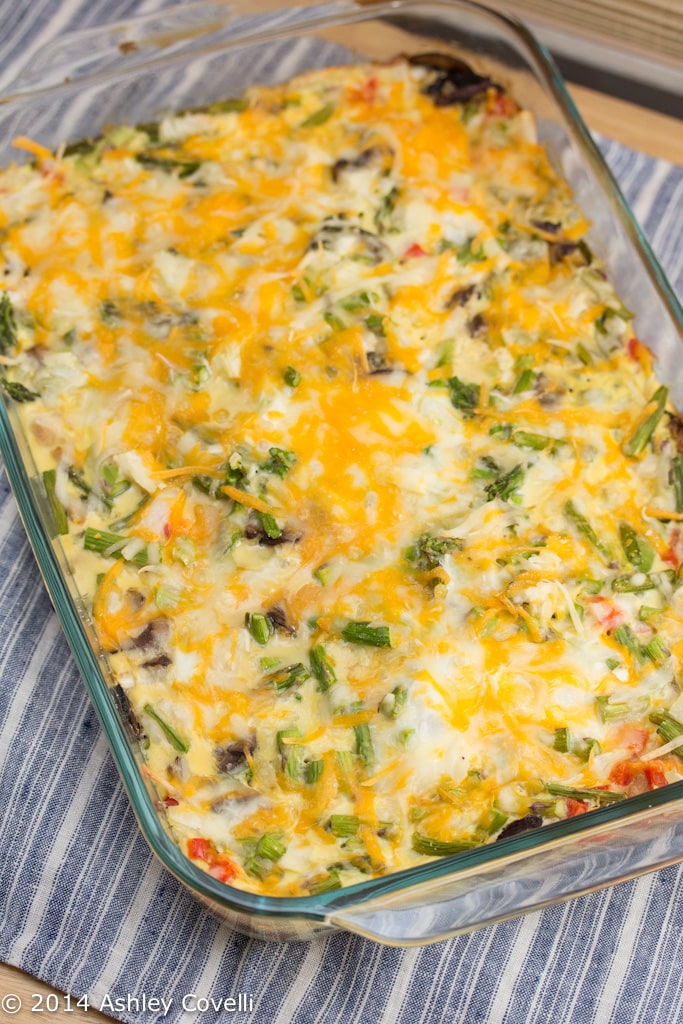 I love that this casserole has the bread component in it already - no need to make toast to go with it! Do yourself a favor and toast all 5 muffins at once in the oven instead of in batches in the toaster. It makes it go much quicker.
In the morning, all I did was take it out of the fridge, preheat the oven, make a big pot of coffee, top the casserole with more cheese, and pop it in the oven. The house smelled great while it was cooking!
I really loved the mix of veggies and cheese in this casserole. Any blend of cheeses would be nice here - I ended up using a mix of Cracker Barrel Extra Sharp Cheddar and Baby Swiss.  I also used multi-grain English muffins, and they held up nicely - I was surprised that they weren't soggy after soaking all night!
This is definitely the type of recipe that's easily adaptable to your family's tastes. It's great because it makes a lot, and I even popped a few pieces in the freezer to try reheating at a later date - I'll report back on how that works out.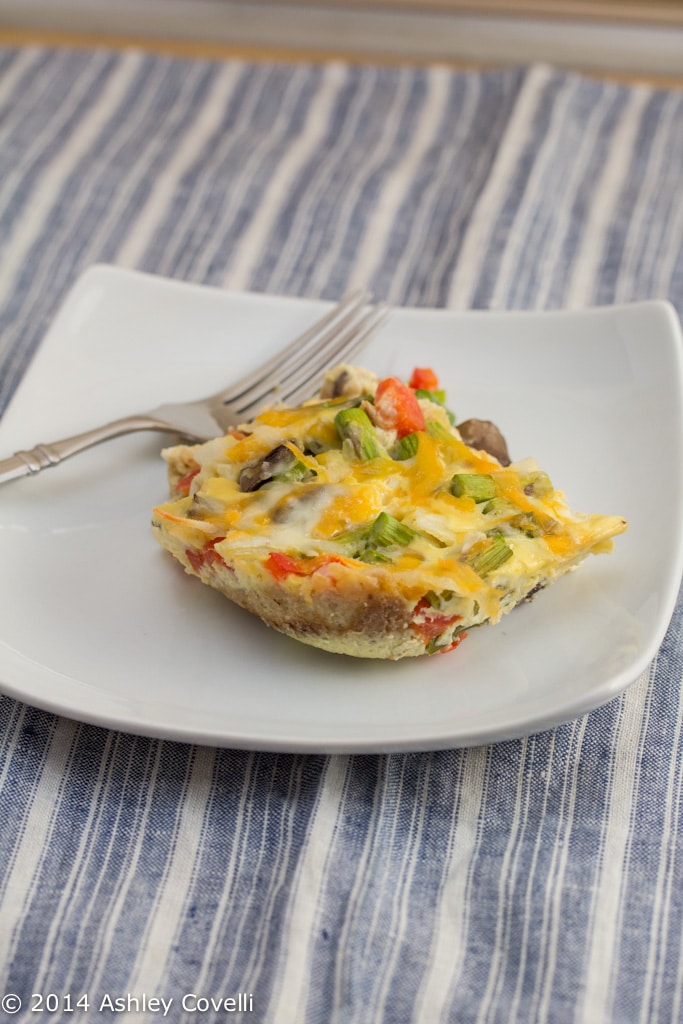 Overnight Asparagus Mushroom Strata
Allrecipes - Shandeen
Prep: 25 min
Cook: 45 min
Ready In: 9 hr 15 min
Makes: 8 Servings
2 teaspoons butter, or as needed
1 ¾ cups sliced crimini mushrooms
5 English muffins, split and toasted
1 cup shredded Colby-Monterey Jack cheese
1 pound fresh asparagus, trimmed and cut into 1-inch pieces
½ cup chopped red bell pepper
½ onion, finely chopped
8 eggs
2 cups milk
1 teaspoon salt
1 teaspoon dry mustard powder
¼ teaspoon ground black pepper
1 cup shredded Colby-Monterey Jack cheese
Melt the butter in a skillet over medium heat, and cook and stir the mushrooms until their liquid has mostly evaporated and the mushrooms are beginning to brown, about 10 minutes. Set the mushrooms aside.
Grease a 9x13 inch baking dish, and arrange 8 muffin halves, cut sides up, in the bottom of the dish. Stuff pieces of remaining muffins into the spaces between the halves. Spread 1 cup of Colby-Monterey Jack cheese over the muffins in a layer, and distribute the asparagus pieces, mushrooms, red pepper, and onion over the cheese.
Whisk together eggs, milk, salt, dry mustard, and black pepper in a bowl, and pour the egg mixture over the muffins and vegetables. Cover the dish, and refrigerate overnight.
The next day, preheat oven to 375 degrees F (190 degrees C).
Remove the casserole from the refrigerator and let stand for 30 minutes. Spread 1 cup of Colby-Monterey Jack cheese in a layer over the casserole.
Bake in the preheated oven until a knife inserted near the edge comes out clean, 40 to 45 minutes. Let stand 5 to 10 minutes before cutting into squares.
Big Flavors Rating: 4 Stars
Note: KraftyCooking is a joint effort by a lot of bloggers/cheese enthusiasts who enjoy Kraft products, including Cracker Barrel cheese. I was in no way compensated for this post. Cheese lovers, unite! 🙂