This post may contain affiliate links, which won't change your price but will share some commission.
We had some round steak in the freezer from when my parents visited a few months back, so I looked up an easy recipe to use it up.
This is a really low-maintenance recipe, and the results are pretty tasty! The meat was super tender after baking for so long, which was really nice.
The only change I made was to use a can of V8 since I had them on hand, and not straight-up tomato juice. I served this with brown rice and a quick green bean dish that I came up with to use up the rest of the can of diced tomatoes.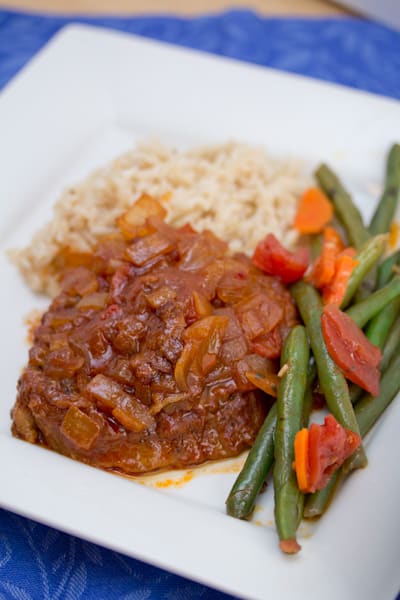 Old-Fashioned Swiss Steak
Allrecipes - Vera Kleiber
"My husband and I enjoyed this recipe for so many years, recalls Vera Kleiber in Raleigh, North Carolina. The sauce is wonderful, and the dish always brings back memories."
Prep Time: 20 Min
Cook Time: 1 Hr 30 Min
Ready In: 1 Hr 50 Min Yield 2 servings
¾ pound beef top round steak
¼ teaspoon salt
⅛ teaspoon pepper
1 tablespoon all-purpose flour
1 tablespoon canola oil
1 medium onion, chopped
1 (5.5 ounce) can tomato juice
½ cup diced canned tomatoes
2 teaspoons lemon juice
2 teaspoons Worcestershire sauce
1 ½ teaspoons brown sugar
½ teaspoon prepared mustard
Cut steak into two pieces; sprinkle with salt and pepper. Using a mallet, pound flour into the meat. In a large skillet, brown meat in oil on both sides. Transfer to a shallow 1-qt. baking dish coated with nonstick cooking spray.
In the same skillet, saute onion in drippings until tender. Stir in the remaining ingredients. Pour over meat. Cover and bake at 350 degrees F for 1-½ hours or until tender.
Nutritional Analysis: 1 serving (prepared with ¼ teaspoon salt and reduced-sodium tomato juice) equals 361 calories, 12 g fat (2 g saturated fat), 96 mg cholesterol, 541 mg sodium, 20 g carbohydrate, 3 g fiber, 41 g protein.
Big Flavors Rating: 4 Stars