This post may contain affiliate links, which won't change your price but will share some commission.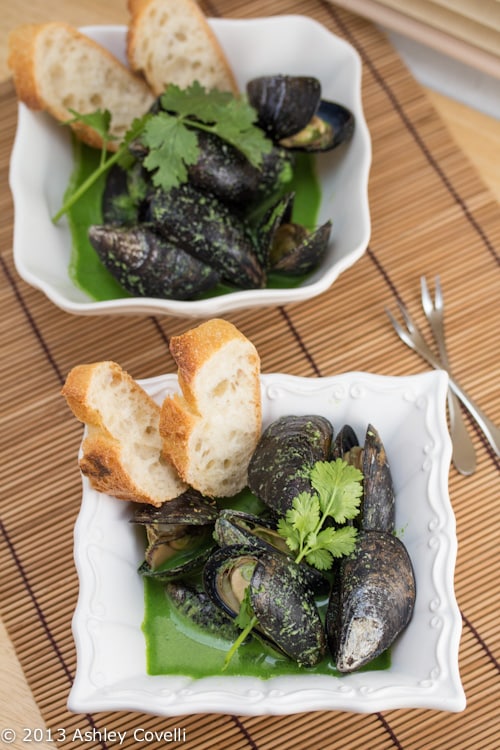 I made this for the first time a few years ago, but wasn't able to find mussels and used little neck clams instead. I caught an ad for a sale on mussels over at Hmart, so I decided to give it another try. It was great, but I ran into a few... let's just call them issues along the way. Apparently I have bad luck with mussels, as the few times I've purchased them, even though they're already cleaned, they are a giant pain-in-the-you-know-what to prep. There are beards hanging on (and this time IN!!), they still need to be scrubbed, and lots of them aren't alive any longer. Ugh. Also, this time around, we were going to try to use fresh shredded coconut, but we ended up getting a young coconut which was impossible to shred (and apparently not something you can really do with them), and Dino ran out to get some unsweetened shredded coconut, since I only had sweetened. He ran to 2 different stores. With a cranky toddler. After 8pm. So, it was frustrating to say the least. But luckily this was still super tasty, and sopping up the broth with sliced baguette is pretty much one of the best things ever.
I don't know that I'll bother cooking with mussels at home again. I may try one or 2 more stores to see if I can get better quality mussels, but the places I've tried in the past are all really reputable, and shouldn't have issues like this. I think it's me. I have some sort of mussel curse 😉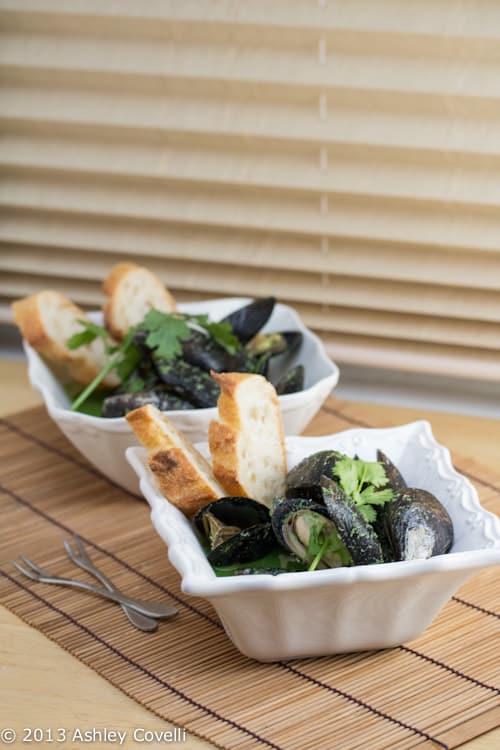 Mussels in a Coconut Chile Sauce (Thisri Kooman)
660 Curries: The Gateway to Indian Cooking – Raghaven Iyer
This specialty from the Konkani-speaking community of Hindu Goa, along India's west coast, could not be any easier to prepare. The delicate flavor of the mussels is enhanced by sweet coconut, and the chiles add a mellow pungency. Pass around hot steamed white rice so your guests can pour the delicious broth over it to savor every last drop.
Serves 4
5 pounds mussels, in the shells
1 cup shredded fresh coconut; or ½ cup shredded dried unsweetened coconut, reconstituted (see Note)
½ cup firmly packed fresh cilantro leaves and tender stems
1 teaspoon coarse kosher or sea salt
2 large cloves garlic
2 fresh green Thai, cayenne, or serrano chiles, stems removed
1. Pile the mussels into a large bowl. Quickly go through them and discard any broken or cracked shells. Scrub each mussel (although the ones available at any supermarket are actually quite clean) and remove the beards (2 or 3 strands dangling from one end of the shell – rather like a straggly goatee or a pubescent boy's chin). Tap the shell if it's slightly ajar. If it closes shut, the mussel is alive and usable. If it does not shut, discard it, since this means it is dead. Plunk the prepared mussels into a colander and give them a good rinse.
2. Pour 1 cup water into a blender and add the coconut, cilantro, salt, garlic, and chiles. Blend, scraping the inside of the jar as needed, to form a puree.
3. Bring 1 cup water to a boil in a large stockpot over high heat. Add the mussels and cover the pot. Cook, shaking the pot occasionally so they cook evenly, until they all open up to reveal plump, off-white meat, about 5 minutes. Discard any mussels that remain shut.
4. Add the pureed mixture to the stockpot and stir into the mussel-flavored broth, which will now turn green. Ladle some of the broth over the mussels to baste them a bit as you cook, uncovered, until the broth has warmed up, 1 to 2 minutes.
5. Pour the mussels and broth into a large serving bowl, and serve.
Note: To reconstitute coconut, cover with ½ cup boiling water, set aside for about 15 minutes, and then drain.
Big Flavors Rating: 4 Stars