This post may contain affiliate links, which won't change your price but will share some commission.
I saw this recipe on an episode of 30-Minute Meals that was sitting on my DVR and immediately wanted to make it. It's simple enough that I could make it in my half setup kitchen. It looked decadent and delicious on her show, but it didn't turn out to be anything special. I wouldn't bother wasting a few pinches of saffron in this dish. The color is pretty, but it's not worth it. It was good as a side with the veal scallopini that I made tonight, but only because we haven't had much home cooked food lately. I won't bother to make this one again.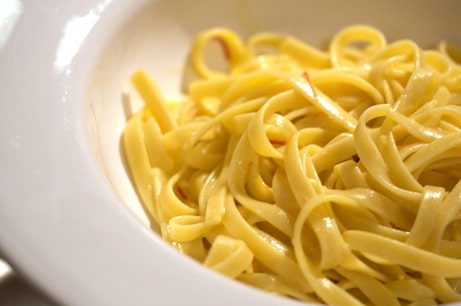 Milanese Fettuccini Alfredo
30-Minute Meals - Rachael Ray
Serves 6
½ teaspoon saffron threads (2 pinches)
1-1 ½ cups chicken stock
Salt
1 pound fettuccini
6 tablespoons butter, cut into pats
8 ounces finely grated Parmigiano Reggiano cheese (2 ½-3 cups loosely packed)
Bring a large pot of water to a boil over medium heat.
Pre-heat the oven to warm, about 200°F. Put a large serving bowl or a platter, for the pasta, into the oven to warm.
In a small pot over low heat, add the saffron threads and the stock. Let steep until ready to use.
When the water boils, season with salt, add the pasta and cook to al dente. Just before draining, add a ladle of the starchy pasta water to the pot with the saffron stock. Drain the pasta.
Remove the bowl or platter from the oven and scatter with the butter pats. Add the pasta and pour in the saffron liquid. Sprinkle with half of the cheese and toss for 1 minute. Add more cheese and continue to toss for another 1-2 minutes. Keep tossing until the pasta is evenly coated and the cheese has melted into the saffron broth, forming a creamy, lightly golden sauce. Serve immediately.
MacGourmet Rating: 3 Stars