This post may contain affiliate links, which won't change your price but will share some commission.
This recipe only takes 5 ingredients. It's perfect for a busy weeknight, and the flavors are wonderful. It's spicy and slightly sweet, with some tartness from the lime juice. I don't cook with chicken thighs too often, and this one made me want to cook with them more often. I used boneless, skinless thighs and it worked out great. The only caution I'd give is to line the bottom of your broiler pan with foil, because the marinade drips down and burns from being in the oven for so long. I served this with some leftover biryani and a quick arugula salad. It was a great meal!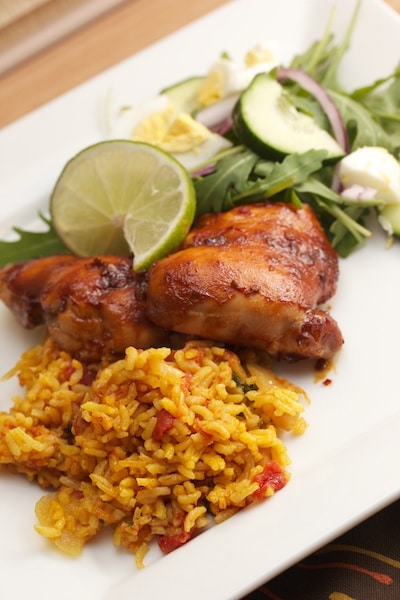 Latin Baked Chicken
Cooking Light June 2010
Serve with Spanish rice.
Yield: 4 servings (serving size: 2 chicken thighs)
The 5 Ingredients
¼ cup fresh lime juice
3 tablespoons less-sodium soy sauce
2 tablespoons honey
2 tablespoons minced chipotle chile in adobo sauce
8 (4-ounce) bone-in chicken thighs, skinned
Directions: Preheat oven to 400°. Combine lime juice, soy sauce, 2 tablespoons honey, and chipotle in a large bowl. Add chicken, and toss well to coat. Let stand for 10 minutes at room temperature. Arrange the chicken on a broiler pan coated with cooking spray, reserving marinade. Bake at 400° for 15 minutes. Place reserved marinade in a blender, and process until smooth. Place pureed marinade in a small saucepan. Bring to a boil, and cook 3 minutes. Brush chicken with half of cooked sauce; return to oven and bake an additional for 10 minutes. Brush chicken with remaining sauce; bake an additional 10 minutes or until a thermometer registers 165°.
CALORIES 316 ; FAT 9g (sat 2.3g,mono 2.8g,poly 2.2g); CHOLESTEROL 188mg; CALCIUM 28mg; CARBOHYDRATE 11.9g; SODIUM 677mg; PROTEIN 45.3g; FIBER 0.8g; IRON 2.8mg
Big Flavors Rating: 4 Stars