This post may contain affiliate links, which won't change your price but will share some commission.
This meal may not be the prettiest out there, but it is one of the tastiest plates of comfort food I've had in quite some time. It's not surprising that this is the type of food that Nigella Lawson grew up with!
Italian sausages are browned all over and then cooked in a garlicky red wine bath, then served on top of hearty green lentils. I used spicy Italian sausage here, and was totally blown away with how much flavor came out of these few ingredients.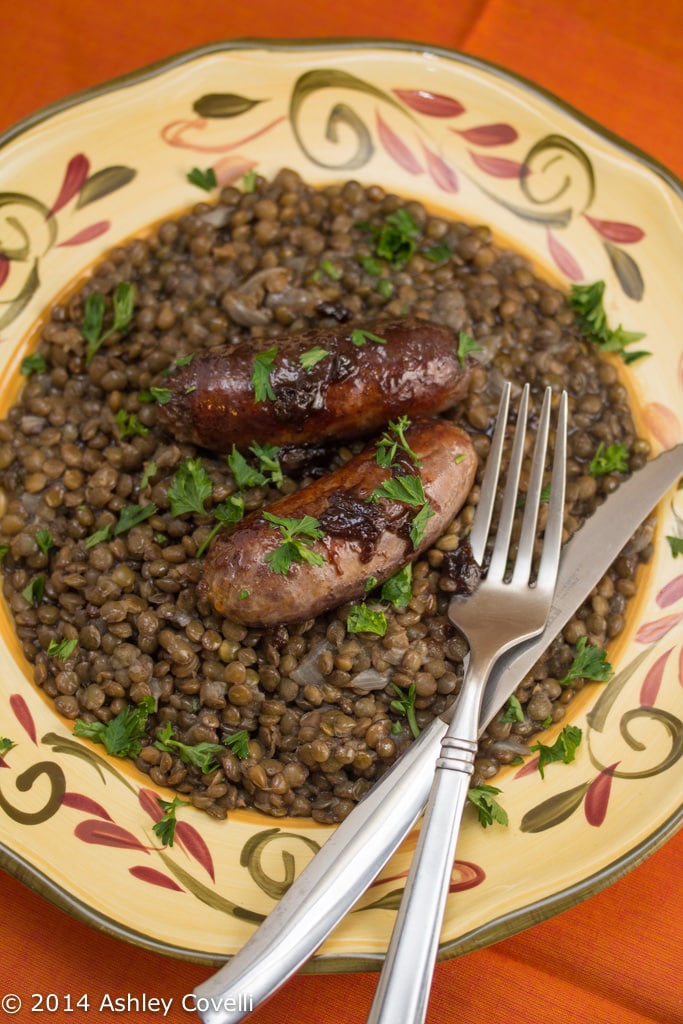 My husband practically licked his plate clean. It's safe to say that I'll definitely be making this one again and again!
Funny side note: the next day, my toddler asked us if we were going to eat "wet salami and beans" again, and we were cracking up, because... well... I guess it did kind of look like that's what we were enjoying so much! Ha!
Italian Sausages with Lentils
Mom's Secret Recipe File - Chris Styler
Nigella Lawson (Adapted from Nigella Bites)
3 - 4 tablespoons olive oil (not extra virgin)
1 onion, finely chopped
Sprinkling of salt
18 ounces dried Puy lentils (about 2 ¾ cups)
1 fat clove garlic, skin removed and squished with the flat side of a knife
8 Italian sausage links
⅓ cup plus 1 tablespoon red wine
¼ cup water
Flat-leaf parsley for sprinkling
1. To cook the lentils, put 2 to 3 tablespoons of oil into a good-sized saucepan (one that has a lid that fits) on the heat, and when it's warm, add the onion. Sprinkle with salt (which helps prevent it from browning) and cook over a low to medium heat until soft, about 5 minutes. Add the lentils, stir well, and cover generously with cold water. Bring to a boil, cover, and simmer gently for 30 minutes or so, until cooked and most if not all of the liquid has been absorbed. I don't add salt at this stage since the sauce provided by the sausages later (which will be poured over the lentils) will be pretty salty itself. So wait and taste. And remember: You can of course cook the lentils in advance.
2. Anyway, when the lentils are nearly ready or when you're about to reheat them, put a heavy frying pan over medium heat, cover with a film of oil, and add the bruised garlic. Cook for a few minutes, then add the sausages and brown them on both sides, which won't take more than 5 minutes or so - throw in the wine and water, and let bubble up. Cover the pan with a lid or aluminum foil and cook about 15 minutes. Using a fork, mash the now-soft garlic into the sauce and taste for seasoning. Add a little more water if it's too strong.
3. Remove the lentils to a shallowish bowl or dish. (I evacuate the sausages from their cooking pan, plonk the lentils in, and then proceed). Cover with sausages and their garlicky, winey gravy. Sprinkle on some flat-leaf parsley.
Big Flavors Rating: 5 Stars