This post may contain affiliate links, which won't change your price but will share some commission.
This colorful salad made for a simple, make-ahead dinner a few weeks ago. Things have been hectic at home, and I needed something that I could make during my toddler's nap time that we could all enjoy in the evening.
This salad was nice and fresh. The smoked paprika in the background was wonderful. I couldn't find fresh basil at the store that week, so I used mint, and it was nice and different.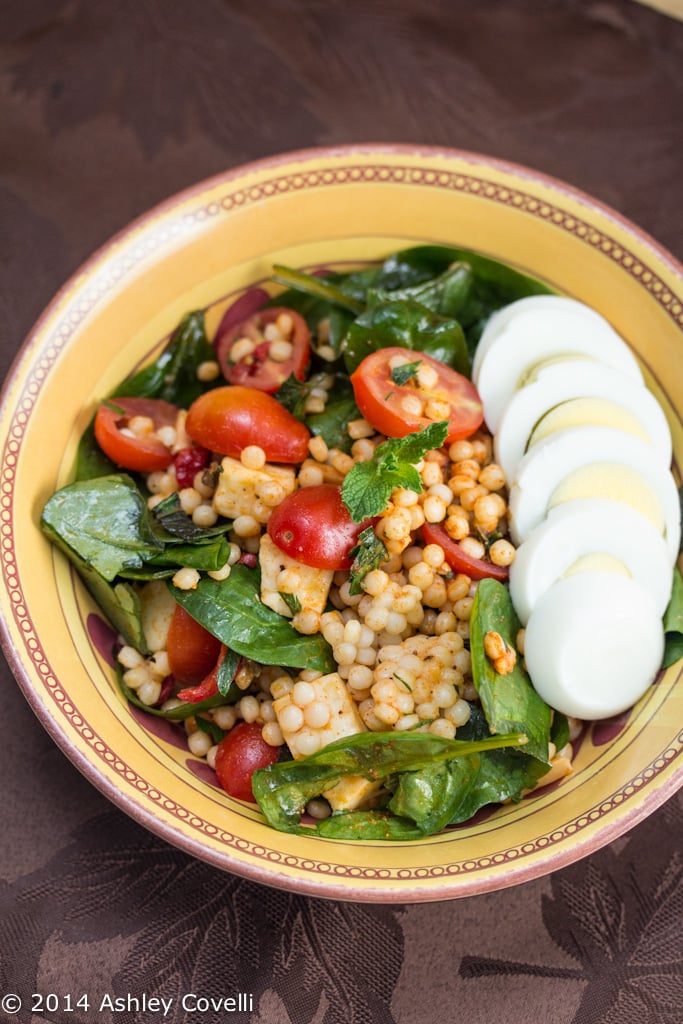 This would be great served with some grilled salmon or chicken. I topped each serving with a sliced, hard-boiled egg to make it more filling. My son loved slicing up the Easter eggs that he colored for that part 🙂
Israeli Couscous Salad with Smoked Paprika, Tomatoes, and Mozzarella
A Hint of Honey (adapted from Food Network)
1 Tbsp. extra virgin olive oil
1 ⅓ cups (8 oz.) Israeli couscous, also known as pearl couscous or maftoul (whole wheat if you can find it)*
generous pinch salt
2 cups packed baby spinach leaves, chopped
12 oz. grape or cherry tomatoes, halved
8 oz. fresh mozzarella, cubed (or 4 oz. feta, crumbled)
1 cup jarred roasted red peppers, drained and diced
⅓ cup sliced or slivered almonds, toasted
¼ cup fresh flat-leaf parsley, chopped
3 Tbsp. fresh basil, chopped (or fresh mint)
⅓ cup extra virgin olive oil
2 Tbsp. white balsamic vinegar
1 ½ tsp. smoked paprika
½ tsp. kosher salt
¼ tsp. freshly ground black pepper
1. To make the coucous, heat the oil over medium-high heat in a large saucepan. Cook the couscous, stirring frequently, until golden, 4 to 5 minutes. Add 2 cups water and the salt and bring to a boil. Reduce the heat to medium-low. Cover and simmer until the couscous is just tender and the liquid is absorbed, 9 to 10 minutes. Set aside to cool.
2. To make the dressing, whisk the oil, vinegar, paprika, salt and pepper in a small bowl until smooth.
3. Mix together the spinach, tomatoes, cheese, peppers, parsley, almonds and basil in a large bowl. Add the couscous and the dressing. Toss until all the ingredients are coated. Season to taste with additional salt and freshly ground black pepper, if needed. Transfer to a large serving bowl and serve. (Can be prepared ahead of time and served chilled.)
Serves 6-8.
*Optional: use Gluten Free
Big Flavors Rating: 4 Stars