This post may contain affiliate links, which won't change your price but will share some commission.
I made this sandwich when a late-night sweet tooth craving struck, and I started thinking... I made this in the style of a grilled cheese sandwich. But it's not really grilled, it's more pan-fried. But if I called it a fried sandwich, I'd picture something like what you'd get at a state fair, breaded and deep-fried. This version is ever so slightly healthier than that - ha! Any way you look at it, this was DELICIOUS, and totally hit the spot.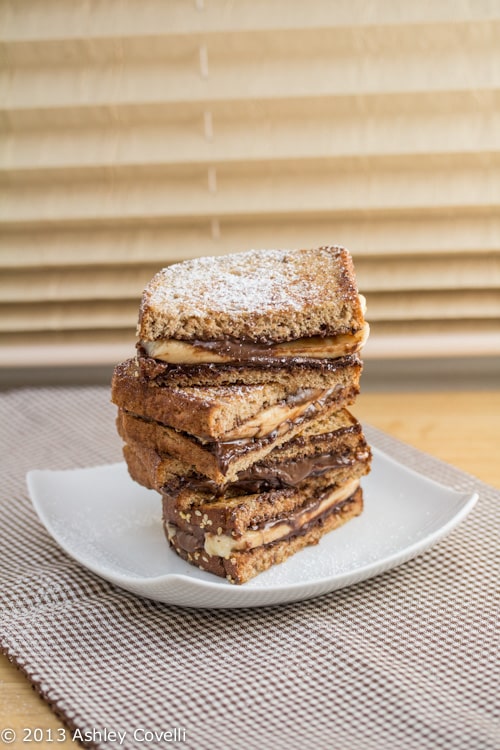 All I did to make 2 sandwiches was slather the insides of 4 pieces of bread with Nutella. I sliced one banana in half lengthwise, and then each half into thin strips, and loaded up one side of each sandwich with them. Then, I closed the sandwich together, Nutella-side in. I melted some butter in a large, non-stick skillet over moderate heat. I threw the sandwiches in there and cooked them on one side until they got nice and brown, and then flipped them over and cooked the other side. I threw a little more butter in there when I flipped them, because the pan was starting to dry out. When I make grilled cheese sandwiches, I butter the outsides of the bread instead of melting butter in the pan, but I wanted to give it a try this way, and it worked out really well. The sandwiches were nice and melty and delicious, and a sprinkling of powdered sugar at the end finished it off perfectly. YUM.
Big Flavors Rating: 5 Stars