This post may contain affiliate links, which won't change your price but will share some commission.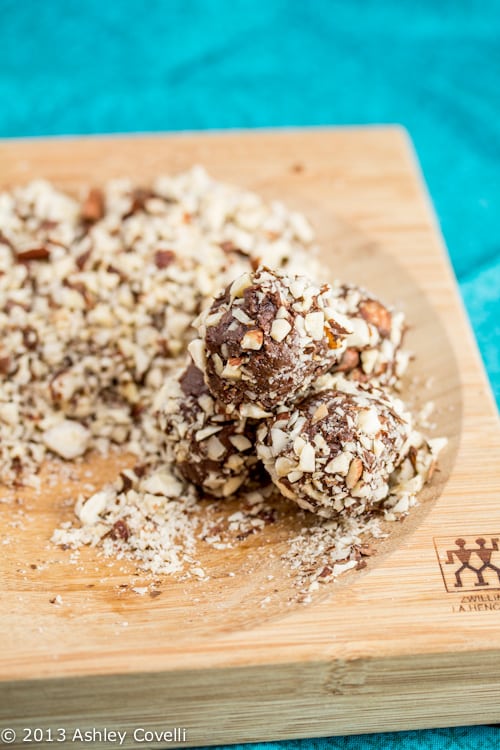 A dear friend of ours is moving across the country, and he's having a going away party tomorrow evening. I wanted to make something as a little send-off gift for him, and I chose this Cooking Light recipe that I've been eyeing for a few weeks now. I didn't think it looked like it would make 21 truffles, and I was right. I used a small scoop and got maybe a dozen (I totally forgot to count!). The hazelnuts I found weren't salted, and that was fine. In the excitement of my son learning how to walk with the assistance of a walker tonight (!), I totally forgot to toast the hazelnuts. My bad. I know it would have made these even tastier (hey, we had to QC the batch, to make sure we weren't giving our friend bad candy!). I'll definitely try these out again, with toasting. And hey, we'll just see if he peeks at my blog before tomorrow night to see what he's in store for! 😉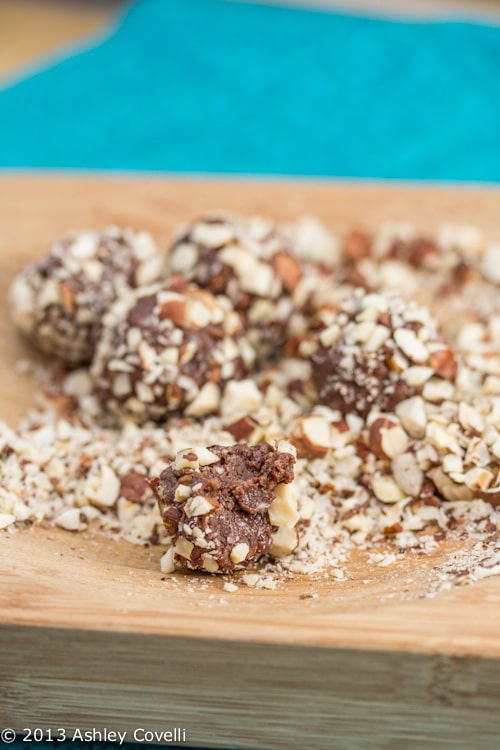 Chocolate-Triple Hazelnut Truffles
Cooking Light December 2012
Mild milk chocolate allows the triple hit of nutty goodness to come forward in these creamy truffles; bittersweet chocolate would overpower those flavors. To speed up prep, chill the chocolate mixture for 1 hour or until completely set; let stand at room temperature for 30 minutes to soften before scooping.
Yield: Serves 21 (serving size: 1 truffle)
Total: 6 Hours, 20 Minutes
3 tablespoons hazelnut-chocolate spread (such as Nutella)
2 ½ tablespoons Frangelico (hazelnut-flavored liqueur)
1 tablespoon light-colored corn syrup
½ teaspoon vanilla extract
Dash of salt
5 ounces milk chocolate, finely chopped
⅓ cup finely chopped salted hazelnuts, toasted
1. Combine the first 6 ingredients in the top of a double boiler. Cook over simmering water until chocolate melts (about 2 minutes), stirring constantly. Spoon mixture into a shallow dish. Let stand at room temperature 6 hours or up to overnight.
2. Scoop about 1 tablespoon chocolate mixture with a spoon. Dredge in nuts; roll into a ball. Repeat procedure with remaining chocolate mixture and nuts.
Amount per serving
Calories: 79
Fat: 4g
Saturated fat: 1.7g
Monounsaturated fat: 1.4g
Polyunsaturated fat: 0.2g
Protein: 0.8g
Carbohydrate: 9.8g
Fiber: 0.4g
Cholesterol: 2mg
Iron: 0.1mg
Sodium: 13mg
Calcium: 15mg
Big Flavors Rating: 4 Stars