This post may contain affiliate links, which won't change your price but will share some commission.
This was hands down one of the best new recipes I've made in a long time. WOW! It has a lot of my favorite ingredients - pasta, tomatoes, beans and garlic. I couldn't find arugula, so I ended up getting a mixed bag of greens, and I wasn't sure if I'd enjoy them warm. It ended up being fantastic - the tomatoes get just soft enough to melt in your mouth while still having some texture to them, and it has the perfect amount of garlic. I substituted bucatini for the spaghetti. The beans add a great textural contrast to the tomatoes, and the lemon juice is really key in bringing it all together. This dish is just wonderful, and I highly recommend it. My tiny kitchen got insanely hot while I was boiling the pasta for this dish, but it was most definitely worth it!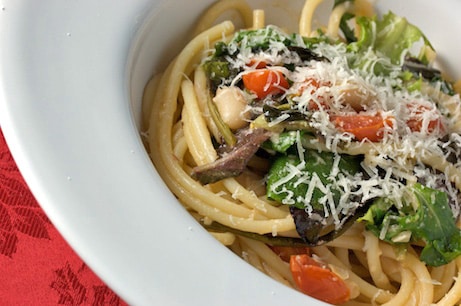 Garlicky Spaghetti with Beans and Greens
Cooking Light August 2009
Canned beans are a great pantry staple with lots of protein and fiber. To help reduce sodium in regular canned beans, we rinse and drain them.
6 servings (serving size: about 1 ⅓ cups)
8 ounces uncooked spaghetti
¾ teaspoon kosher salt, divided
3 tablespoons extra-virgin olive oil
2 tablespoons minced fresh garlic
½ teaspoon crushed red pepper
2 cups grape tomatoes, halved
1 (16-ounce) can cannellini beans or other white beans, rinsed and drained
5 ounces arugula leaves
2 tablespoons fresh lemon juice
½ cup (2 ounces) grated Parmesan cheese
1. Cook pasta according to package directions, omitting salt and fat. Drain pasta in a colander over a bowl, reserving ½ cup pasta water. Place pasta in a small bowl. Add ¼ teaspoon salt, tossing gently. Set aside, and keep warm.
2. Return pan to medium heat. Add oil, garlic, and pepper; cook 2 minutes or until garlic is lightly browned, stirring occasionally. Stir in remaining ½ teaspoon salt, tomatoes, and beans; cook 2 minutes. Add pasta; cook 4 minutes, stirring frequently. Add reserved pasta water and arugula, tossing gently to combine. Remove from heat. Stir in lemon juice and cheese. Serve immediately.
Nutritional notes:
Calories: 290
Fat: 10.5g (sat 2.7g,mono 5.8g,poly 1.3g)
Protein: 11.3g
Carbohydrate: 38.1g
Fiber: 3.7g
Cholesterol: 8mg
Iron: 2.4mg
Sodium: 469mg
Calcium: 173mg
MacGourmet Rating: 5 Stars