This post may contain affiliate links, which won't change your price but will share some commission.
This was a surprisingly hearty recipe that we really liked. The cumin really warms it up, and the yogurt cools it at the end. Unfortunately the leftovers didn't heat up too well, so if I make this again, I'd either cut it in half or have a few people over for dinner so I didn't have any left.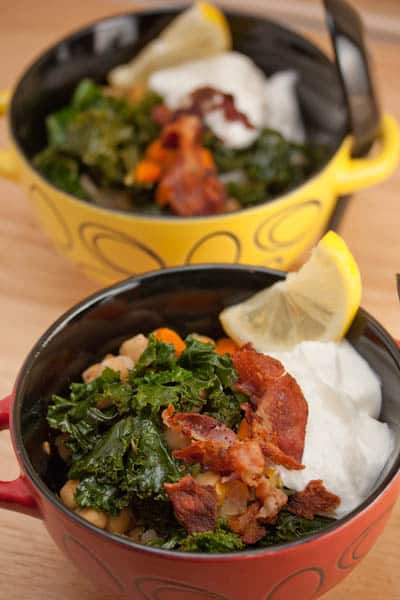 Garbanzo Beans and Greens
Cooking Light January 2011
Substitute escarole or another hearty green like collards if you don't like kale. Serve with torn baguette bread to soak up all the tasty juices.
Total: 45 minutes
Yield: 4 servings
2 center-cut bacon slices
1 cup chopped carrot
½ cup chopped onion
2 garlic cloves, minced
1 teaspoon paprika
¼ teaspoon kosher salt
½ teaspoon ground cumin
½ teaspoon crushed red pepper
2 ½ cups fat-free, lower-sodium chicken broth
1 cup water
2 (15-ounce) cans organic chickpeas (garbanzo beans), rinsed and drained
4 cups chopped fresh kale
½ cup plain 2% reduced-fat Greek yogurt
4 lemon wedges (optional)
1. Cook bacon in a Dutch oven over medium heat until crisp. Remove bacon from pan using a slotted spoon, and crumble. Add 1 cup carrot and chopped onion to drippings in pan, and cook for 4 minutes, stirring occasionally. Add garlic, and cook for 1 minute, stirring constantly. Add paprika, ¼ teaspoon salt, cumin, and red pepper; cook for 30 seconds, stirring constantly. Stir in chicken broth, 1 cup water, and beans; bring to a boil. Reduce heat, and simmer for 20 minutes, stirring occasionally.
2. Add 4 cups kale to bean mixture. Cover and simmer for 10 minutes or until kale is tender, stirring occasionally. Ladle about 1 ¼ cups bean mixture into each of 4 bowls, and top each serving with 2 tablespoons yogurt. Sprinkle with bacon, and serve with lemon wedges, if desired.
Wine Match: An inexpensive selection, the 2008 Turning Leaf Cabernet Sauvignon (California, $8) has black cherries, oak, and a nice, smooth taste to counterbalance the meaty bacon and beans and earthy greens in this hearty dish. --Gretchen Roberts
Nutritional Information:
Calories: 216
Fat: 4.2g (sat 0.9g,mono 0.2g,poly 0.1g)
Protein: 15.1g
Carbohydrate: 33.7g
Fiber: 6g
Cholesterol: 4mg
Iron: 4mg
Sodium: 595mg
Calcium: 197mg
Big Flavors Rating: 4 Stars