This post may contain affiliate links, which won't change your price but will share some commission.
Salmon is such a versatile fish - it has such a subtle flavor which is good on its own, yet lends itself to being a great canvas for other flavors.
This particular salmon recipe included a new ingredient to us - black rice noodles. They were really light and delicious, and my toddler went crazy for them!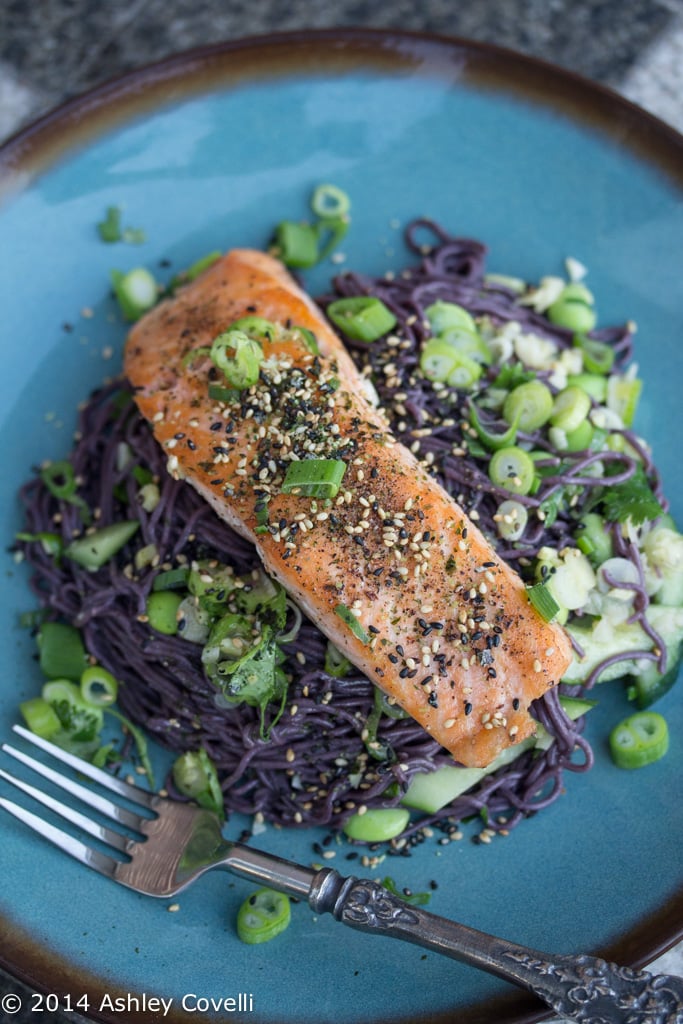 This was a big, colorful plate of food that was bursting with freshness. The furikake sprinkled over top adds just the right amount of seasoning.
Just a note – the recipes from Blue Apron call for "1 bunch" of herbs, and that correlates to the size of the "bunch" they send if you're using their service (which I'm absolutely in love with!). I'd say their bunches are about 1-2 tablespoons.
3 Scallions
2 Cloves Garlic
2 Skinless Salmon Fillets
2 Tablespoons White Miso Paste
1 1-Inch Piece Ginger
1 Kirby Cucumber
1 Large Bunch Cilantro
1 Tablespoon Sesame Oil
¼ Pound Edamame, In Shells
6 Ounces Black Rice Noodles
2 Teaspoons Furikake
See Blue Apron for the full recipe.