This post may contain affiliate links, which won't change your price but will share some commission.
This Thanksgiving was extra special because it was my son's first birthday. Wow. A year already!! I didn't want to let the fact that it was Thanksgiving deter me from baking a special cake just for him to go to town on. I wanted a simple cupcake recipe that I could take part of to make into a little cake so that we could all enjoy it.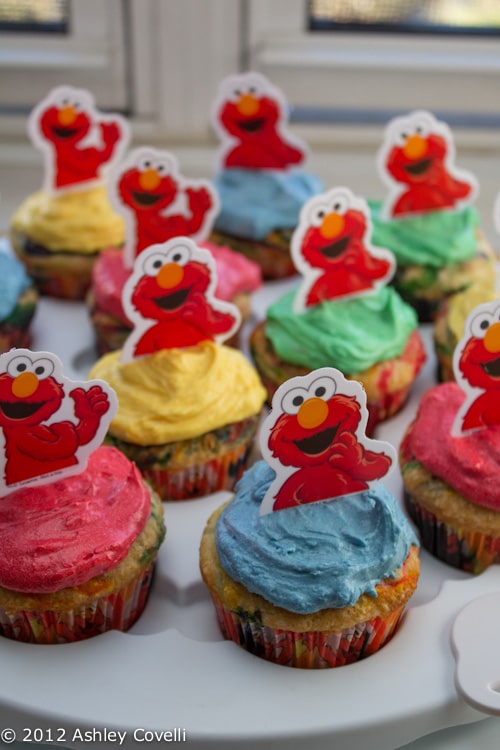 I wanted to make it a little more fun by making them colorful, so after I portioned out the batter, I put drops of food coloring onto each and swirled it around with a toothpick. It was way easier than doing a bunch of colored batches of batter, and it gave them a really cool tie-dyed effect. Here's what they looked like before I baked them...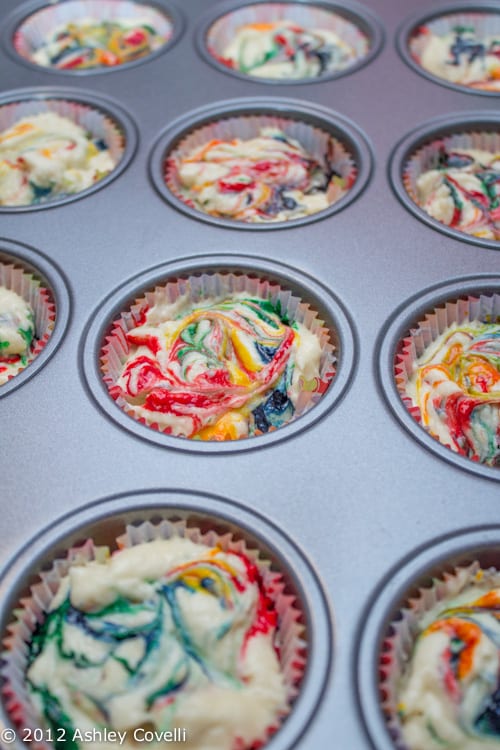 ...and after they came out of the oven.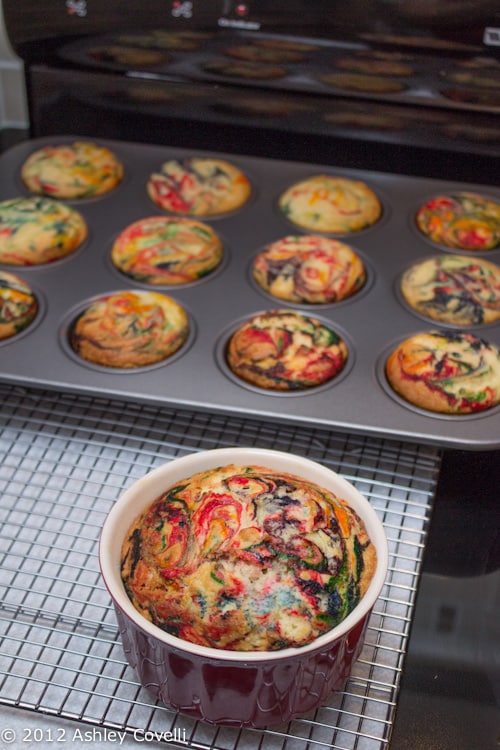 I cooled them overnight and frosted them all on Thanksgiving morning. They were super moist, and the buttercream was delicious. The frosting did cover up the tie-dye, but you could still see it peeking out a bit. I'd definitely make these again.
Amy Sedaris's Vanilla Cupcakes
I Like You: Hospitality Under the Influence - Amy Sedaris
yield: Makes 24 cupcakes
1 ½ sticks unsalted butter
1 ½ cups sugar
2 eggs
2 teaspoons pure vanilla extract
2 ½ teaspoons baking powder
¼ teaspoon salt
2 ½ cups flour
1 ¼ cups milk
Turn oven on to 375 degrees F.
Put butter in mixer and beat at medium speed until somewhat smooth. Pour in sugar and beat well. Add 2 eggs. I like to crack the eggs on the side of the bowl while it is moving, which can be really stupid. I like to take chances. Yes, I have had to throw away my batter because I lost eggshells in the mix. Yes, it was a waste of food and yes, I know how expensive butter is, but what can I say? I'm a daredevil. Mix well. Add: vanilla, baking powder, salt, flour, and milk. Beat until it looks like it is supposed to and pour into individual baking cups, until they are about ⅔ full. Bake for 20 minutes or until golden brown. Should produce 24 cupcakes; I get 18 because I'm doing something wrong, although my cupcakes were voted second best in the city by New York Magazine.
Frost with Amy Sedaris's Vanilla Buttercream Frosting.
Here's the mini two layer cake that I ended up making with the remaining batter. I lucked out that I picked a recipe that made 24 cupcakes - I made 12 and used the rest of the batter for the cake. I made 4 different colors of frosting, and they unintentionally turned out perfect for the Elmo/Sesame Street themed party!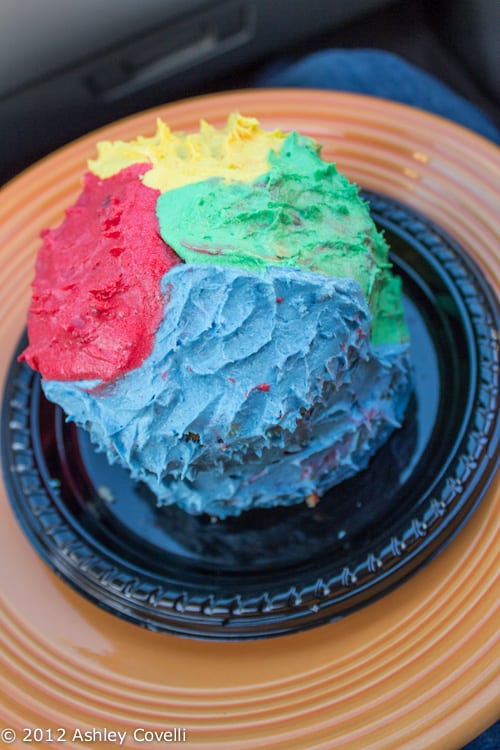 Amy Sedaris's Vanilla Buttercream Frosting
I Like You: Hospitality Under the Influence - Amy Sedaris
yield: Makes enough for 24 cupcakes
1 box confectioners' sugar
1 stick unsalted butter
1 teaspoon pure vanilla extract*
¼ cup milk or light cream
food coloring (optional)
*Less than 1 teaspoon pure almond extract can be substituted.
In a bowl combine: one box of confectioners' sugar, one stick of unsalted butter, one teaspoon of pure vanilla extract, and ¼ cup of milk or light cream and beat for a while. Really whip it, don't be afraid to get in there. I occasionally add food coloring and sometimes substitute pure almond extract for vanilla.
If you do choose to add pure almond extract instead of vanilla, you're on your own. I don't know the measurement for it, but I do know it's less than the amount of vanilla you would add.
Big Flavors Rating: 5 Stars
I think the birthday boy enjoyed it 😉