This post may contain affiliate links, which won't change your price but will share some commission.
In an effort to make sure I'm using up the items that I already have in my tiny kitchen, I decided that tonight, I'd make something for dinner using only things that I already had. I had a block of tofu in the fridge, and a bunch of different meat options in the freezer, so I decided to rattle off a list to my husband and tell him to pick one and that's what we would have for dinner tonight. He picked shrimp. While they were thawing, I raided the pantry and picked a can of fire roasted tomatoes and a can of black beans. I had some cilantro in the fridge that needed to be used up, and a big bag of quinoa that I got from the bulk bin at a local health food store. So I was set - just did a bit of chopping, and dinner was ready fairly quickly. This turned out really well - the spice blend I went with was nice and complex without being overdone. I let the quinoa cook in the rice cooker while I made the main course, and dinner was done!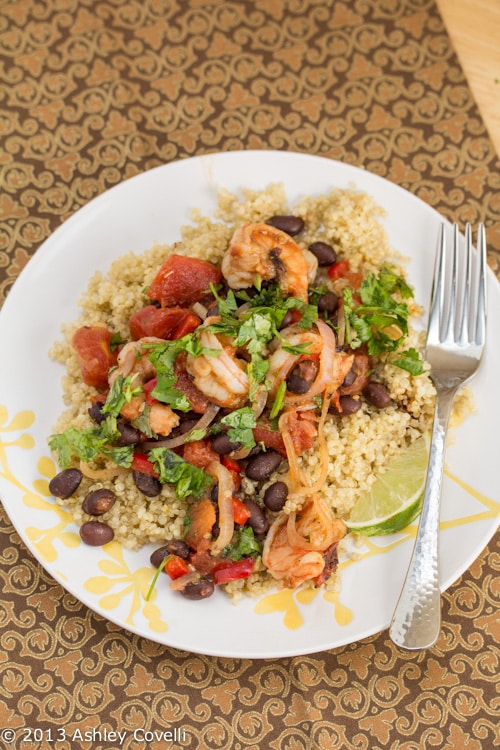 Fire Roasted Tomato and Black Bean Shrimp with Lime-Scented Quinoa
Ashley Covelli
Serves 4
For the quinoa:
2 cups quinoa
2 cups water
zest of 1 lime
pinch of kosher salt
For the shrimp:
2 tablespoons extra virgin olive oil
2 cloves garlic, minced
1 large shallot, thinly sliced
1 small red bell pepper, diced
1 teaspoon smoked paprika
1 teaspoon ground cumin
1 teaspoon dried oregano
½ teaspoon ground coriander
½ teaspoon kosher salt
freshly ground black pepper, to taste
1 pound large shrimp, peeled and deveined
14.5 ounce can fire roasted tomatoes (preferably diced)
15.5 ounce can black beans, rinsed and drained
1 tablespoon lime juice
¼ cup chopped cilantro plus a little extra, for garnish
lime wedges, for garnish
For the quinoa, cook according to package directions, adding the lime zest and salt in with the water. I used a rice cooker - I sprayed the bottom with some olive oil, added the quinoa, water, lime zest and salt and pressed the button and let it cook away. When it was finished, I fluffed it a bit with the rice paddle. Super simple!
For the shrimp, heat oil in a large non-stick skillet over moderate heat. Add garlic, shallot, bell pepper, and seasonings (through black pepper). Sauté for a couple of minutes, stirring occasionally, until it's nice and fragrant. Add shrimp and continue to sauté, Once the shrimp start getting pink around the edges, add the tomatoes and beans. Stir to combine, and let simmer, covered, for a couple of minutes. You're looking to just heat the beans and tomatoes through. Remove the lid, stir in lime juice and cilantro and make sure the shrimp have just cooked through. Taste for seasoning and adjust if necessary.
Place quinoa on each of 4 plates and top with the shrimp mixture. Garnish with extra cilantro and lime wedges if desired. Enjoy!
Big Flavors Rating: 4 Stars