This post may contain affiliate links, which won't change your price but will share some commission.
Dino made another awesome breakfast today - scrambled eggs and the most amazing hash browns fried up in the cast iron skillet. And my contribution was a great find from the Farmers' Market this morning...roasted garlic and duck fat ciabatta. WOAH.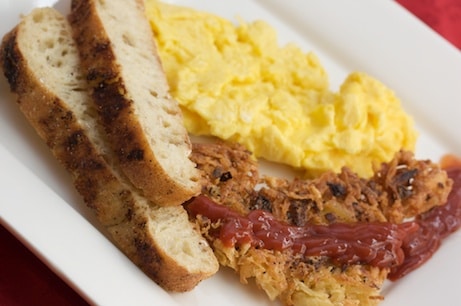 Emily's Famous Hash Browns
Allrecipes - your mom
"Good old fashioned restaurant-style hash browns. Perfect with hot pepper sauce and ketchup!"
Prep Time: 20 Min
Cook Time: 15 Min
Ready In: 35 Min
Original Recipe Yield 4 servings
2 medium russet potatoes, shredded
½ medium onion, finely chopped
¼ cup all-purpose flour
1 egg
1 cup oil for frying, or as needed
salt and pepper to taste
1. Rinse shredded potatoes until water is clear, then drain and squeeze dry. Place shreds in a bowl, and mix in the onion, flour and egg until evenly distributed.
2. Heat about ¼ inch of oil in a large heavy skillet over medium-high heat. When oil is sizzling hot, place potatoes into the pan in a ½ inch thick layer. Cover the whole bottom of the pan, or make separate piles like pancakes. Cook until nicely browned on the bottom, then flip over and brown on the other side. It should take at least 5 minutes per side. If you are cooking them in one big piece, it can be cut into quarters for easier flipping.
3. Remove from pan, and drain on paper towels. Season with salt and pepper and serve immediately.
Amount Per Serving Calories: 183 | Total Fat: 6.9g | Cholesterol: 53mg
MacGourmet Rating: 5 stars