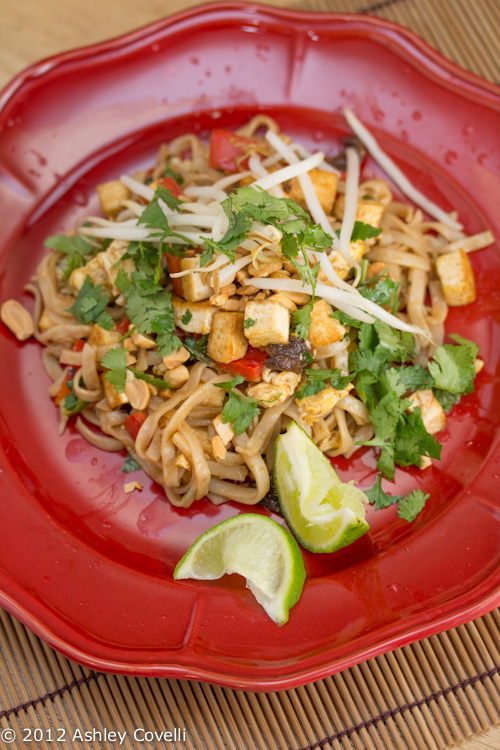 This post may contain affiliate links. Thank you for supporting the brands that keep me creative in my tiny kitchen!
Is there some sort of bean sprout shortage? I was in the mood to make my favorite Pad Thai recipe, and I couldn't find bean sprouts! I absolutely love the flavor and texture that they add to this dish, and I was determined to find them. I actually drove around to 3 stores yesterday and another 3 today just to find them. Ugh! But it was so worth it. This time around, I used tamarind paste instead of ketchup, and it was awesome, so I re-revised the recipe below. One note – be sure to get tamarind paste without seeds. And be warned – even if it's labeled seedless, you may still end up with a stray seed or two in the brick of tamarind. I have this food curse, where I'm always the one who gets weird stuff like that in my bites, and I bit into a giant seed. Luckily, I didn't bite too hard. It was like a rock solid almond. Ick. Next time I'll look more closely.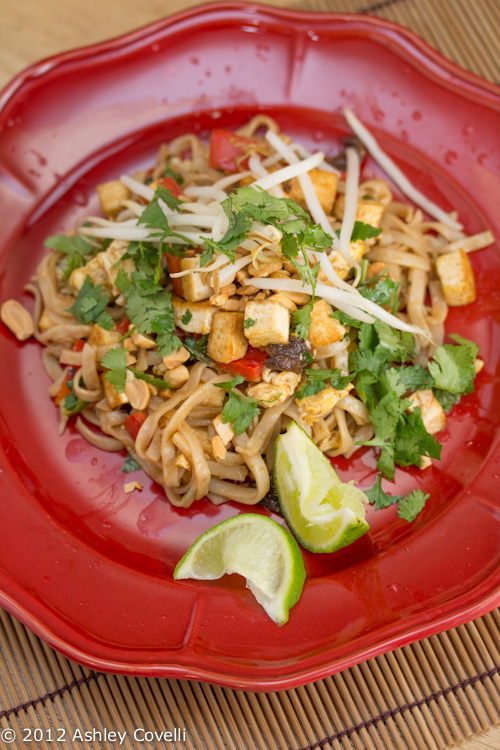 Crispy Tofu Pad Thai
Adapted from Cooking Light January 2009
1 (12.3-ounce) package reduced-fat, firm tofu, drained
2 tablespoons cornstarch
6 ounces flat uncooked rice noodles
1 1/2 T tamarind paste**
2 tablespoons sugar
2 tablespoons fish sauce
1 tablespoon Sriracha (hot chile sauce, such as Huy Fong)
2 tablespoons canola oil, divided
1 red bell pepper, chopped
2 large eggs, lightly beaten
1 large egg white, lightly beaten
½ cup chopped green onions
2 tablespoons chopped fresh cilantro
Garnish:
dry-roasted (unsalted) peanuts, chopped
lime wedges
green onions, chopped
bean sprouts, rinsed well
soy sauce*
Sriracha
*Optional: use Gluten Free
**may substitute 1/2 cup ketchup for tamarind paste/water mixture
1. Place tofu on several layers of paper towels; cover with additional paper towels. Let stand 30 minutes, pressing down occasionally. Cut tofu into 1/2-inch cubes, and toss with cornstarch.
2. Prepare noodles according to package directions, omitting salt and fat. Drain well; set aside.
3. Combine tamarind paste with 1/2 c warm water, whisking to incorporate. You may want to microwave it for a few seconds to help loosen things up. Mix in, sugar, fish sauce, and Sriracha. Set aside.
4. Heat 1 tablespoon oil in a nonstick skillet over medium-high heat. Add tofu to pan; sauté 7 minutes or until golden. Remove tofu from pan.
5. Heat 1 teaspoon oil in pan. Sauté bell pepper until it starts to soften. Add eggs and egg white; cook 30 seconds, stirring constantly. Remove from pan. Heat remaining 2 teaspoons oil in pan. Add noodles; cook 3 minutes. Stir in ketchup mixture; cook 30 seconds. Add egg mixture and tofu; heat through. Remove from heat; stir in onions and cilantro.
6. Serve in bowls and top with a drizzle of soy sauce, chopped peanuts, green onions, cilantro and bean sprouts. Squeeze a healthy dose of lime juice over top. Add more Sriracha if you like it spicy. Enjoy!
Yield: 4 servings
Big Flavors Rating: 5 Stars