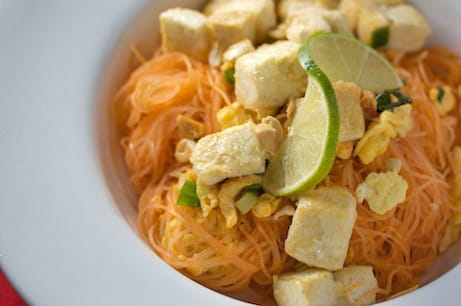 This post may contain affiliate links. Thank you for supporting the brands that keep me creative in my tiny kitchen!
This is the best Pad Thai recipe I've tried – it has a lot of flavor, and the tofu is great. Next time I'll find the right noodles – the rice sticks were a little too thin, and it threw off the "normal" Pad Thai texture. I'll definitely be making this one again!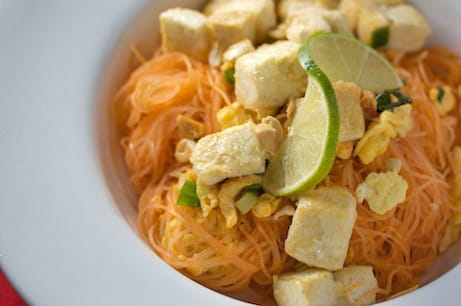 Crispy Tofu Pad Thai
Cooking Light January 2009
Plant-based proteins like tofu and peanuts are abundant sources of protein.
1 (12.3-ounce) package reduced-fat, firm tofu, drained
1 tablespoon cornstarch
6 ounces flat uncooked rice noodles
½ cup ketchup
2 tablespoons sugar
2 tablespoons fish sauce
1 tablespoon Sriracha (hot chile sauce, such as Huy Fong)
2 tablespoons canola oil, divided
2 large eggs, lightly beaten
1 large egg white, lightly beaten
½ cup chopped green onions
2 tablespoons chopped fresh cilantro
2 tablespoons unsalted, dry-roasted peanuts, chopped
4 lime wedges
1. Place tofu on several layers of paper towels; cover with additional paper towels. Let stand 30 minutes, pressing down occasionally. Cut tofu into 1/2-inch cubes, and toss with cornstarch.
2. Prepare noodles according to package directions, omitting salt and fat. Drain well; set aside.
3. Combine ketchup, sugar, fish sauce, and Sriracha. Heat 1 tablespoon oil in a nonstick skillet over medium-high heat. Add tofu to pan; sauté 7 minutes or until golden. Remove tofu from pan.
4. Heat 1 teaspoon oil in pan. Add eggs and egg white; cook 30 seconds, stirring constantly. Remove from pan. Heat remaining 2 teaspoons oil in pan. Add noodles; cook 3 minutes. Stir in ketchup mixture; cook 30 seconds. Add egg mixture; cook 1 minute, stirring often. Remove from heat; stir in onions and cilantro. Place 1 cup noodle mixture on each of 4 plates. Top each with 1/2 cup tofu and 1 1/2 teaspoons peanuts. Serve with lime wedges.
Yield: 4 servings
Nutritional notes:
CALORIES 419 (0.0% from fat); FAT 14.4g (sat 1.7g,mono 6.8g,poly 3.5g); IRON 3.3mg; CHOLESTEROL 106mg; CALCIUM 374mg; CARBOHYDRATE 57.5g; SODIUM 845mg; PROTEIN 15.4g; FIBER 2.8g
MacGourmet Rating: 5 Stars