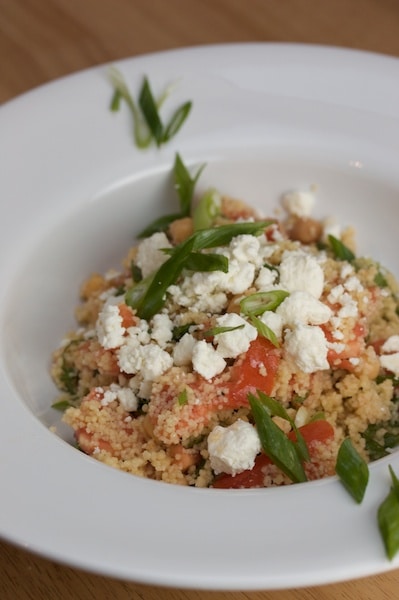 Couscous Salad with Chickpeas
This post may contain affiliate links, which won't change your price but will share some commission.
When I saw this recipe, it looked like a quick and healthy weeknight meal. As soon as the first forkful hit Dino's mouth, his eyes rolled back in his head, and he dubbed it, "an instant 5 star recipe". Wow! This salad packs a ton of flavor, and it's really summery and refreshing. We loved the subtle hint of cinnamon and smoked paprika in the background, and the tanginess from the lemon juice was just perfect. I used a fantastic tomato from the Farmers' Market, and it really made the dish extra special. This dish is easy to put together, and incredibly tasty. We'll definitely be making this again and again!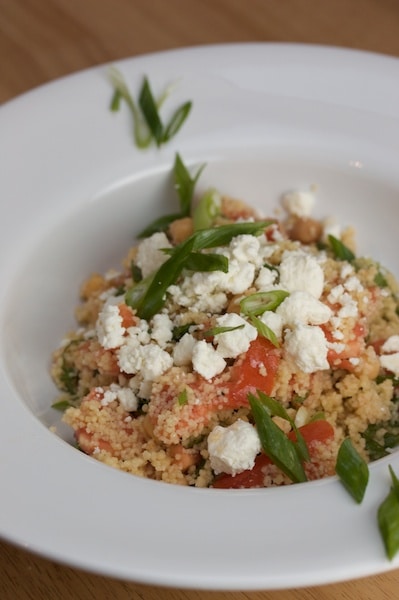 Couscous Salad with Chickpeas
Cooking Light July 2010
Total: 20 minutes
Yield: 4 servings (serving size: 1 1/3 cups salad and 3 tablespoons cheese)
Ingredients:
1 cup uncooked whole-wheat couscous
1/2 teaspoon salt, divided
1/2 teaspoon black pepper, divided
1/8 teaspoon ground cinnamon
1 cup boiling water
3 tablespoons extra-virgin olive oil
3 tablespoons fresh lemon juice
1 1/2 teaspoons minced garlic
Dash of sugar
1/3 cup chopped fresh mint
1/4 cup thinly sliced green onions
1/8 teaspoon smoked paprika
1 (15-ounce) can chickpeas (garbanzo beans), rinsed and drained
1 large ripe tomato, chopped
3/4 cup (3 ounces) crumbled feta cheese
1. Place couscous, 1/4 teaspoon salt, 1/4 teaspoon pepper, and cinnamon in a bowl. Stir in boiling water; cover and let stand 10 minutes. Fluff with a fork.
2. Combine oil, juice, garlic, and sugar.
3. Add oil mixture, remaining 1/4 teaspoon salt, 1/4 teaspoon pepper, mint, and next 4 ingredients (through tomato). Sprinkle with cheese.
Nutritional Information:
Calories: 351 Fat: 16.2g (sat 4.7g,mono 8.6g,poly 1.6g) Protein: 11g Carbohydrate: 43.6g Fiber: 7.7g Cholesterol: 19mg Iron: 2.6mg Sodium: 655mg Calcium: 154mg
MacGourmet Rating: 5 Stars