This post may contain affiliate links, which won't change your price but will share some commission.
A friend of mine gave me a trial week of Blue Apron a few weeks ago, and it couldn't have come at a better time. I had been swamped with work and a custom cupcake order (not to mention taking care of my energetic two-year-old), so I didn't have much downtime for menu planning and shopping.
I decided to make the seafood dish first. I hadn't ever cooked with cod before, and I'm not usually a fan of tarragon, but this recipe totally won me over!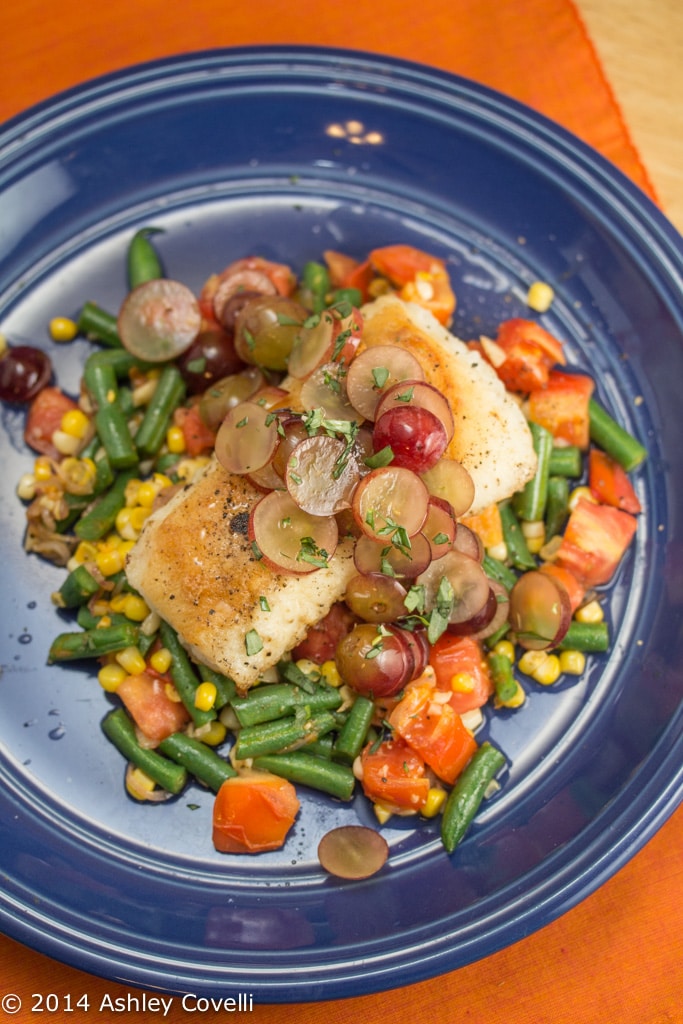 Cod fillets are seasoned tossed in rice flour and served over a colorful assortment of veggies. They're topped with tangy, tarragon-studded pickled grapes for a sweet-and-sour punch.
The cod was beautifully flaky, and the succotash was hearty and filling. I loved the pickled grape topping, but then again, I don't often meet a pickle I didn't love.
I love that this took the work of menu planning and prep away from me for the week, and this is a meal I'll definitely be making again and again. My only note if you're going to make this at home without using the Blue Apron service is that "1 bunch" of herbs isn't like 1 bunch from the grocery store. It's probably 1-2 tablespoons.
I've ordered a few more weeks of Blue Apron since, and love it so much that I sent a gift week to my brother and his wife as a housewarming gift. They were thrilled! The customer service was awesome, too, which always scores big points in my book.
2 Cloves Garlic
1 Bunch Tarragon
1 Ear Of Corn
1 Tomato
1 Shallot
¼ Pound Green Beans
¼ Pound Red Seedless Grapes
2 Tablespoons White Wine Vinegar
1 Tablespoon Sugar
2 Cod Fillets
½ Cup Rice Flour
See Blue Apron for the full recipe.