This post may contain affiliate links, which won't change your price but will share some commission.
This is a super simple weeknight meal that turned out great! The only change I made was to use a little olive oil in the pan with the green beans. I love solid recipes like this that only call for a few ingredients and pack a lot of flavor. Of course, we really enjoy garlic, so I had a feeling this would hit the spot 🙂 My toddler really liked this, too!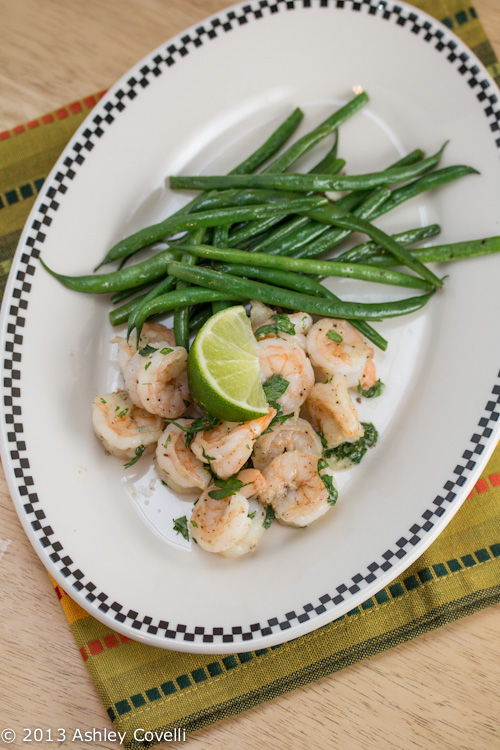 Cilantro Lime Shrimp & Green Beans
Zahlmann Zoo Crew
Servings: 4 • Serving Size: 6 oz shrimp & 1-½ cups green beans
Calories: 257.3 • Fat: 5.1g • Protein: 35.9 g • Carb: 17.4 g • Fiber: 4.1 g
Ingredients:
2 teaspoon olive oil
2 lb shrimp, shelled and deveined
6 cloves garlic, crushed
⅓ cup chopped fresh cilantro
1 lime
salt and pepper
6 cups green beans
Directions:
Heat a large frying pan on medium-high heat. Add oil to the pan, when hot add shrimp. Season with salt and pepper. When the shrimp is cooked on one side, about 2 minutes, turn over and add garlic. Saute another minute or two until shrimp is cooked, careful not to overcook. Remove from heat. Squeeze lime all over shrimp and toss with cilantro. Serve hot.
In a separate pan, add 6 cups green beans, crushed garlic to taste, and season with salt and pepper. Cook on medium high for 2 minutes. Add ½ cup water and cover, cook for an additional 8 minutes. Uncover and cook until water evaporates. Serve hot on the side of shrimp.
Big Flavors Rating: 4 Stars