This post may contain affiliate links, which won't change your price but will share some commission.
We're almost out of apples from this year's apple picking adventure. I picked this recipe for dinner tonight, and it was wonderful!
The pan sauce is delicious, and this is really easy to put together. The chicken is juicy and tender, and we really enjoyed it!
I served this with baked potatoes and some brussels sprouts that I tossed with olive oil, salt and pepper and roasted in the oven. It was a great meal!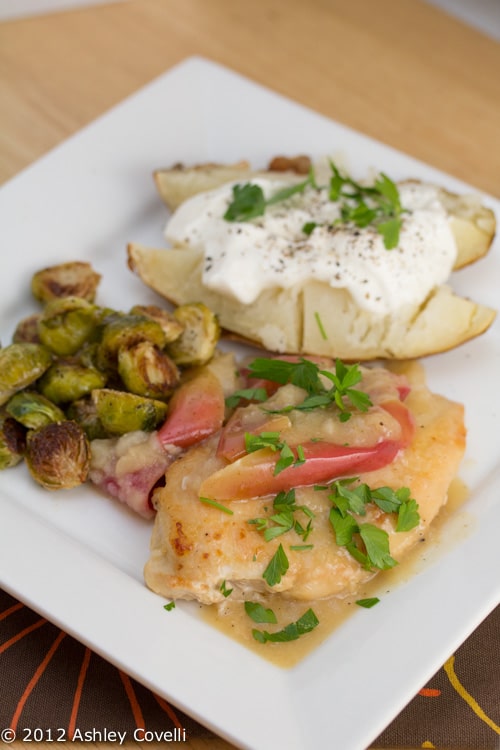 Chicken and Apples in Honey Mustard Sauce
Simply Recipes
Prep time: 5 minutesCook time: 25 minutes
The sauce this recipe produces is fairly mild. If you would like a more intensely honey-mustard sauce, double up on the apple cider/mustard/honey mixture and skip the broth. Whatever you do, do not use red delicious apples for this recipe. That variety of apple simply does not cook well.

½ cup apple cider
1 ½ teaspoons cornstarch
Salt
Freshly ground black pepper
1 tablespoon honey
2 tablespoon Dijon mustard
½ cup flour, for dredging
1 pound boneless, skinless chicken breasts
2 tablespoon olive oil
2 small unpeeled apples, cored and cut into eighths (use Fuji, Granny Smith, Jonathan, Jonagold, Pippin, or McIntosh apples, good cooking apples)
½ cup chicken broth
Fresh parsley for garnish
1. Whisk cider, cornstarch, mustard, honey, salt and pepper (to taste) in a bowl. Set aside.
2. Salt the chicken well and dust in flour. Shake off the excess.
3. In a large non-stick skillet, heat the oil on medium to medium high heat. Once the oil is hot add the chicken breasts to the pan. Cook until golden brown on one side, about 3-4 minutes. Turn chicken, add apples, and cook until the chicken has browned on the other side.
4. Add chicken broth and cider mixture to the pan and bring to a boil. Turn the heat down to low, cover the pot and simmer until chicken is tender, about 15 minutes.
5. With slotted spoon, remove chicken and apples to serving plates. Spoon sauce over chicken and apples and sprinkle with parsley. Serve with rice or noodles.
Yield: Serves 4.
Big Flavors Rating: 4 Stars