This post may contain affiliate links, which won't change your price but will share some commission.
I found some beautiful organic strip steaks a while back, and stashed them in the freezer until inspiration struck. And then I came across a gorgeous wedge of Danish blue cheese and I knew that melty cheese on top of steak needed to happen, and soon!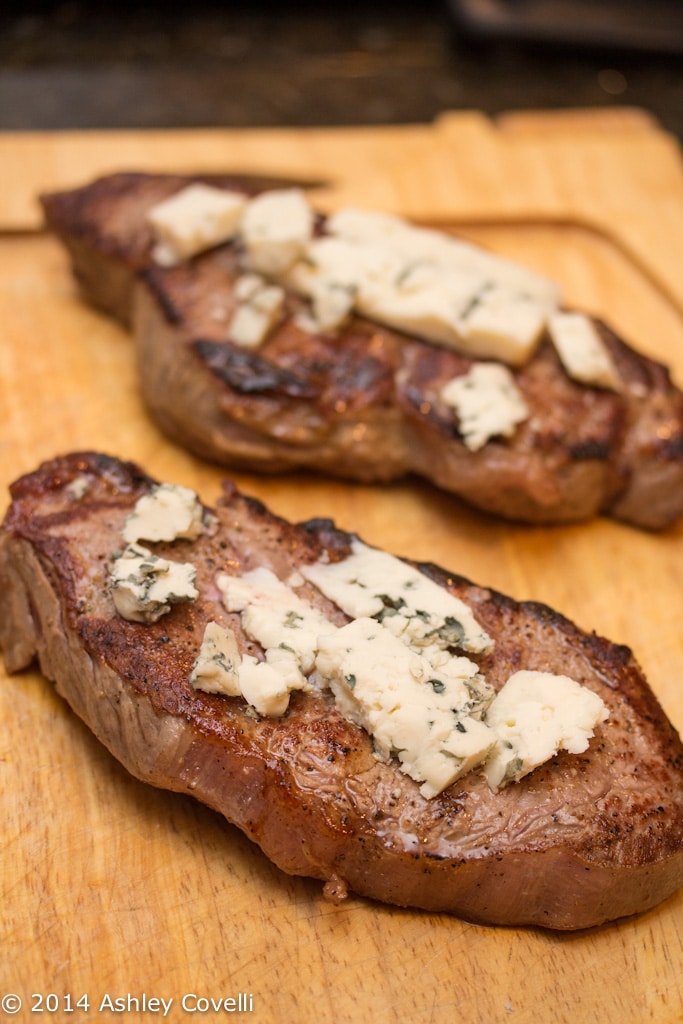 Luckily, I convinced Dino to help me out with cooking the steaks, since high heat cast iron cooking intimidates me a bit. He was glad to do it, and he even helped write up some awesome instructions for how to cook delicious steaks using his method.
This method produces a lot of smoke, but don't be afraid - it's well worth it!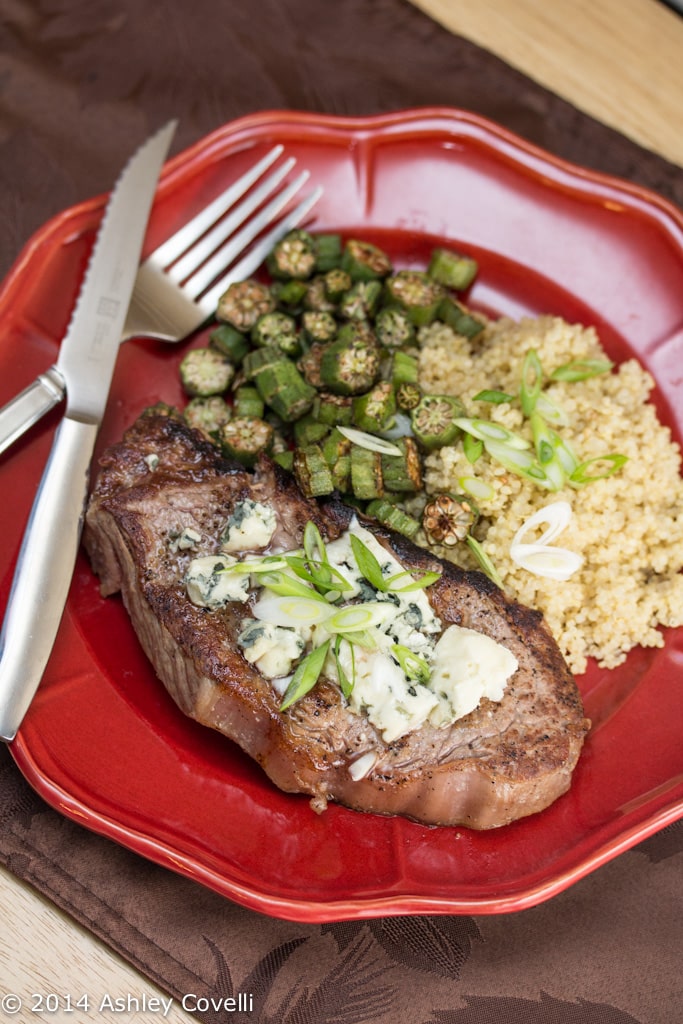 These turned out so.freaking.fantastically. Wow! The saltiness of the cheese on top was beautiful with the beef. They were perfectly medium rare, and we savored every single bite.
I served these with some couscous that I cooked in the rice cooker, and a batch of Roasted Okra that I popped in the oven while the meat was resting.
It was a phenomenal meal.
Cast Iron Strip Steak with Danish Blue Cheese
Big Flavors from a Tiny Kitchen - Dino & Ashley Covelli
For best results, use a well-seasoned cast iron skillet with a cover. If you don't have one, you'll need a skillet and cover that can handle a trip to the oven.
Strip steaks, 1-2" thickness
1 tablespoon unsalted butter (per steak)
Kosher salt & freshly cracked black pepper
Garlic powder
Cayenne pepper
1 tablespoon crumbled blue cheese (per steak)
1 green onion, thinly sliced, for garnish (optional)
Once you start this process you will need to be involved from start to finish- do not walk away or attempt to prepare another dish!
1. Heat the cast iron skillet over high heat.
2. Preheat an oven to 450°F.
3. Pat the steaks dry using paper towels.
4. Season both sides generously with salt, some pepper, and a pinch each of garlic powder and cayenne pepper.
5. The pan is ready when a few drops of water quickly evaporate on its surface - drop the steaks right onto the pan, do not use oil or butter.
6. After 2 minutes, flip the steaks over in place.
7. After 2 minutes, add a dollop of butter to the center of each steak (roughly 1 tablespoon), cover the pan, and put in the oven.
8. Cook the steaks for 2 minutes in the oven.
9. Remove the pan, open the cover and use the finger test (or use a thermometer) to determine if they need more cook time.
10. If steaks are ready, remove them immediately from the pan and set them on a plate or cutting board. Top with blue cheese and allow to rest, tented with foil, for at least 10 minutes. If more cook time is needed, cover the pan again and return it to the oven for 1 minute intervals.
11. Garnish with green onions and serve. Enjoy!
Notes:
Check out the finger test over at Simply Recipes if you'd like to know how to test meat's doneness with this method.
Cooking temperatures for beef:
120-130 °F (50-55 °C) Internal: Rare
130-140 °F (55-60 °C) Internal: Medium-Rare
140-150 °F (60-65 °C) Internal: Medium
150-165 °F (65-75 °C) Internal: Well-Done
Big Flavors Rating: 5 Stars