This post may contain affiliate links, which won't change your price but will share some commission.
This vegetarian dinner was surprisingly filling. We liked the combination of flavors, and the nutmeg definitely added something interesting to the dish, but over all it wasn't a huge winner. It was good, not great.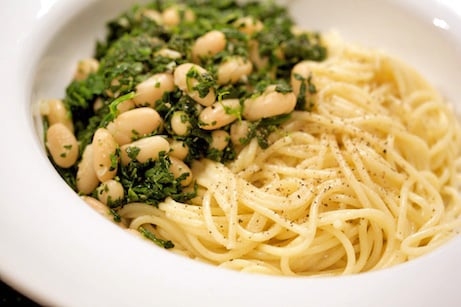 Cacio e Pepe (Cheese & Pepper Pasta) and Spinach with White Beans
Express Lane Meals - Rachael Ray
4 Servings
Salt
1 pound spaghetti
3 tablespoons unsalted butter, cut into small pieces
5 tablespoons EVOO (extra-virgin olive oil)
2 teaspoons coarse black pepper
1 cup grated Pecorino Romano cheese, 3 rounded handfuls
1 10-ounce box chopped frozen spinach
3 to 4 garlic cloves, chopped
1 14-ounce can cannellini beans, rinsed and drained
¼ teaspoon freshly grated nutmeg
Bring a large pot of water to a boil for the pasta and salt it. Add the pasta and cook to al dente. Heads up: you'll need to use a ladle of the cooking water (about ¼ cup) for the sauce right before you drain the pasta.
Place a large skillet over low heat with the butter, 1 tablespoon of the EVOO, and pepper. Let it hang out until the pasta is done.
When the pasta is ready, take a ladle of the starchy cooking water and add it to the butter-pepper mixture. Drain the pasta and toss it in the pan with the sauce. Turn off the heat. Add the cheese in small handfuls, then toss the pasta with tongs, until all the cheese is incorporated into the creamy sauce. Add another ladle of cooking water if needed, then season the pasta to taste with salt and drizzle with 2 tablespoons of the EVOO.
While the pasta works, defrost the spinach in the microwave for 6 minutes on high. Place the spinach in a clean kitchen towel and wring the water out. Heat a small skillet over medium heat. Add the remaining 2 tablespoons of EVOO, twice around the pan, then the garlic. Cook the garlic for 2 minutes, and then add the beans. Add the spinach to the beans, breaking it up as you drop it into the pan. Season the spinach and beans with nutmeg, salt and pepper. Serve the spinach and beans alongside the hot pasta.
MacGourmet Rating: 3 Stars