This post may contain affiliate links, which won't change your price but will share some commission.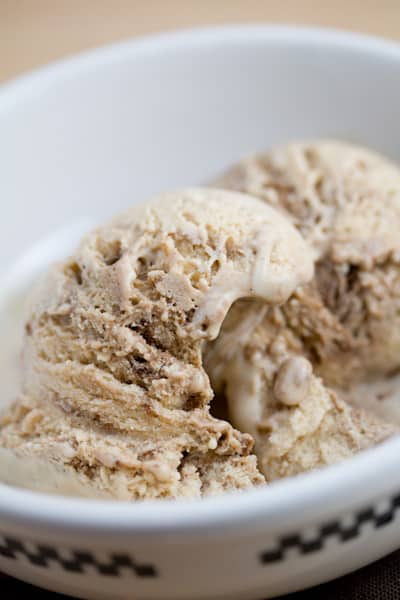 Have you ever drizzled balsamic vinegar over vanilla ice cream? I have. I know...it sounds crazy, but trust me, if it's good, thick balsamic, it can be amazing! The tanginess pairs really well with the sweet ice cream. So when I saw this ice cream recipe, I knew I had to try it. The ice cream base is delicious - I'd totally make that by itself again, but the addition of sweetened, reduced balsamic makes it really unique. This takes quite some time to come together - you have to chill the base overnight, then churn and freeze for several hours again, so I recommend starting 2 days before you want to eat it, and enjoying it on day 3. Not that we didn't sneak a taste of it right after it churned...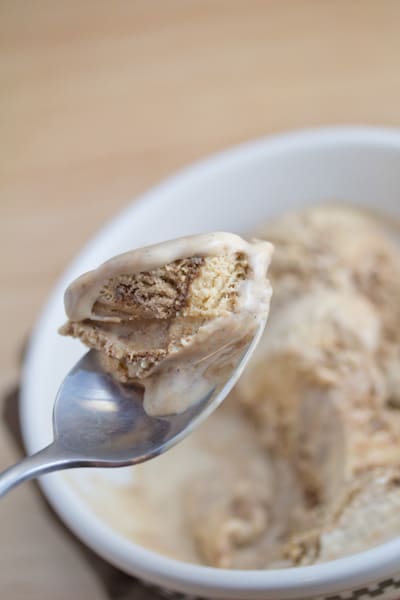 Brown Sugar-Balsamic Swirl Ice Cream
Bon Appétit December 2009
Yield: Makes generous 1 quart
The custard needs to be refrigerated overnight before it's processed in the ice cream maker, so plan accordingly.
1 ½ cups heavy whipping cream
1 ½ cups whole milk
¾ cup (packed) dark brown sugar, divided
½ vanilla bean, split lengthwise
6 large egg yolks
½ cup balsamic vinegar
Combine heavy whipping cream, whole milk, and ½ cup sugar in heavy large saucepan. Scrape in seeds from vanilla bean; add bean. Bring cream mixture to simmer over medium heat, stirring until sugar dissolves.
Meanwhile, whisk yolks and remaining ¼ cup sugar in large bowl until very thick, about 2 minutes.
Gradually whisk hot cream mixture into yolk mixture. Return mixture to saucepan. Stir over medium heat until custard thickens and thermometer inserted into custard registers 180°F, about 3 minutes (do not boil). Strain custard into large bowl set over another bowl of ice and water. Cool custard completely, stirring often, about 15 minutes. Cover and chill overnight.
Boil balsamic vinegar in heavy small saucepan until reduced to 2 tablespoons, about 6 minutes. Cool syrup in pan.
Process custard in ice cream maker according to manufacturer's instructions. When ice cream is done, spoon in balsamic syrup and churn 3 to 4 seconds longer to swirl. Transfer ice cream to container. Cover and freeze until firm, at least 6 hours and up to 1 day.
Big Flavors Rating: 4 Stars