This post may contain affiliate links, which won't change your price but will share some commission.
This was a super easy and tasty dinner. I absolutely love tomatoes, and this was a nice, quick way to add them to a main course. The seasoning blend is simple, yet it packs a ton of flavor. I served this over buttered orzo.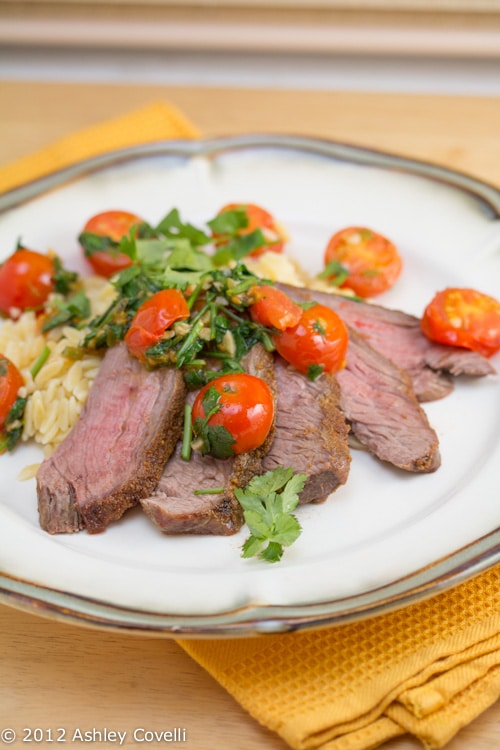 Broiled Flank Steak with Warm Tomato Topping
Cooking Light January 2008
Let the steak stand while you heat the topping. Fill out the meal with orzo, and garnish with fresh cilantro sprigs, if desired.
Yield: 4 servings (serving size: 3 ounces meat and about ⅓ cup topping)
1 ¼ teaspoons ground cumin, divided
¾ teaspoon salt, divided
⅛ teaspoon ground red pepper
1 (1-pound) flank steak, trimmed
Cooking spray
1 teaspoon olive oil
1 teaspoon bottled minced garlic
1 jalapeño pepper, seeded and minced (about 1 tablespoon)
2 cups grape or cherry tomatoes, halved
¼ cup chopped fresh cilantro
Preheat broiler.
Combine 1 teaspoon cumin, ½ teaspoon salt, and red pepper; sprinkle evenly over steak. Place steak on a broiler pan coated with cooking spray; broil 10 minutes or until desired degree of doneness, turning once. Cut steak diagonally across grain into thin slices.
Heat oil in a large nonstick skillet over medium heat. Add garlic and jalapeño to pan; cook 1 minute. Add remaining ¼ teaspoon cumin, remaining ¼ teaspoon salt, and tomatoes to pan; cook 3 minutes or until tomatoes begin to soften. Remove from heat; stir in cilantro. Serve tomato topping with steak.
Amount per serving:
Calories: 194
Calories from fat: 37%
Fat: 7.9g
Saturated fat: 2.5g
Monounsaturated fat: 3.1g
Polyunsaturated fat: 0.5g
Protein: 25.3g
Carbohydrate: 4.3g
Fiber: 1.2g
Cholesterol: 37mg
Iron: 2.4mg
Sodium: 514mg
Calcium: 38mg
Big Flavors Rating: 4 Stars