This post may contain affiliate links, which won't change your price but will share some commission.
This steak recipe is really good, but the sirloin steaks that I bought for it ended up being tough. It was sad, because it had really good flavor, but it was pretty tough to chew. The sauce is really flavorful, and the peppercorn mix adds a nice spicy crust. I'd be willing to try this again with another steak, because it really did taste good. Dino loved it!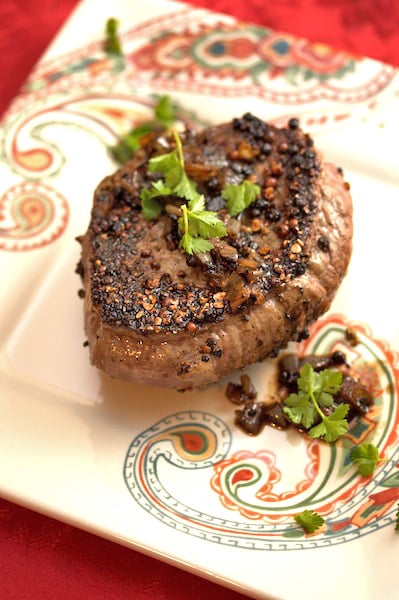 Balsamic Steak au Poivre
Cooking Light June 2010
Crack the peppercorns with the back of a heavy skillet or in a mortar and pestle or spice grinder (don't grind too finely). Serve with a side of steamed haricots verts.
Yield: 4 servings (serving size: 3 ounces steak and 1 ½ tablespoons sauce)
2 (8-ounce) New York strip steaks (about 1 inch thick), trimmed
¼ teaspoon kosher salt
2 tablespoons cracked mixed peppercorns
1 tablespoon olive oil
⅓ cup finely chopped shallots
½ cup fat-free, less-sodium beef broth
2 tablespoons balsamic vinegar
1 tablespoon butter
1. Heat a large cast-iron skillet over high heat. Pat steaks dry with paper towels; sprinkle steaks evenly with salt. Press peppercorns onto both sides of steaks. Add olive oil to pan; swirl to coat. Add steaks to pan; cook 3 minutes on each side or until desired degree of doneness. Remove steaks from pan; let stand 5 minutes. Cut each steak in half.
2. While steaks rest, add shallots to pan; cook 1 minute or until almost tender. Stir in broth and vinegar, scraping pan to loosen browned bits. Bring to a boil; cook 2 minutes or until reduced by half. Remove from heat; stir in butter.
Nutritional Information
Calories: 236
Fat: 12.7g (sat 4.8g,mono 5.9g,poly 0.7g)
Protein: 25g
Carbohydrate: 3.6g
Fiber: 0.1g
Cholesterol: 57mg
Iron: 1.8mg
Sodium: 246mg
Calcium: 26mg
MacGourmet Rating: 4 Stars