This post may contain affiliate links, which won't change your price but will share some commission.
I made this a few days after Easter as a simple main to serve with the leftover veggie side dishes I made. It was quick, simple and tasty!
I wanted to use Panko, but I was out, so I used regular breadcrumbs. I think the Panko would have added a welcome crunch to this dish. But it gets major points for being quick and easy. Yet another great use for that giant bag of tilapia I have hanging out in the freezer!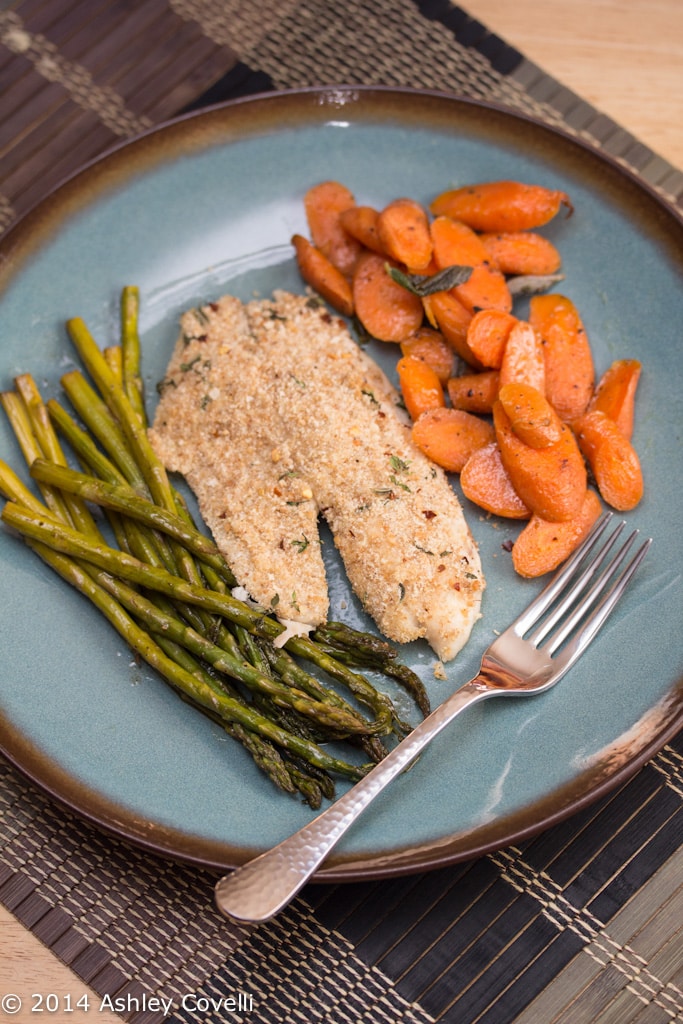 Baked Tilapia with Garlic-Thyme Crust
Big Flavors from a Tiny Kitchen - Ashley Covelli
4 boneless tilapia fillets
⅓ cup unseasoned bread crumbs (regular or Panko)*
1 teaspoon fresh thyme (leaves stripped from the stems)
1 teaspoon garlic powder
¼ teaspoon red pepper flakes
¼ teaspoon kosher salt
⅛ teaspoon freshly ground black pepper
2 teaspoons low fat mayonnaise
Preheat oven to 400°F. Line a sheet pan with a baking rack and spray lightly with oil or non-stick cooking spray.
Pat the tilapia fillets dry. On a plate, mix together bread crumbs, thyme, garlic powder, red pepper flakes, salt and pepper.
Spread ½ teaspoon of mayonnaise on one side of each piece of tilapia. Invert each piece onto the breadcrumb mixture, press firmly, and place on the prepared baking rack, breadcrumb-side up. Repeat with remaining fillets.
Bake for 15-20 minutes, until the fish flakes easily with a fork.
*Optional: use Gluten Free
Big Flavors Rating: 4 Stars