Baked Strawberry Donuts with White Chocolate Ganache
This post may contain affiliate links, which won't change your price but will share some commission.
What celebrities do you share your birthday with? I share mine with some pretty awesome people, including Alton Brown, Delta Burke, Tom Green, Christopher Nolan and Arnold Schwarzenegger. I'm not sure how they spend July 30th each year, but for the last few years, I've celebrated by hanging out with a (slightly less famous) friend who also shares in that special day. We usually have dinner together, but this year, we switched things up and went out to see a horror movie instead. She wanted to get out of the house, leave our husbands at home with the kids, and binge on junk food. It was pretty fun, especially since I decided to bake some strawberry donuts and smuggle them in. We still got popcorn and drinks, but there's just something extra exciting about having gourmet treats waiting to be unveiled mid-movie. I also brought in a couple chocolate covered strawberries that my mom sent to me from Edible Arrangements. Yum! And I bought birthday tiaras for us that we wore the entire time, and that we will now don yearly on our shared birthday. We got some funny looks, and one guy even said that he believed that it was my birthday, but not hers. Guess I look more trustworthy than she does ;).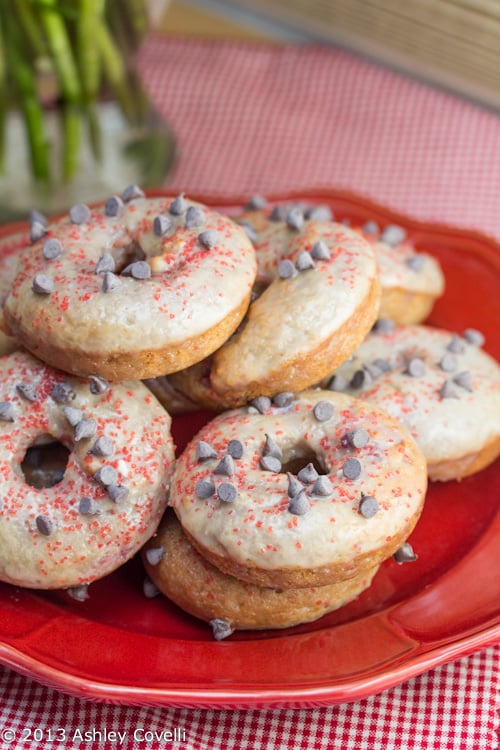 Anyway, the donuts. This was my second time making donuts, and it was another success! These were pretty easy to put together, even though they have a couple of components. They were nice and fluffy and light, and I loved the pieces of strawberry mixed within. I didn't have quite enough of the white chocolate chips at home, so I scaled the ganache down a bit, and it didn't end up being as thick as it should have, despite me dipping them twice. It still tasted great, though. Maybe I didn't let it cool down enough. I sprinkled some mini chocolate chips on top, in addition to red sprinkles, and they were wonderful! My friend also enjoyed them, and my husband was glad to have a bunch left at home that he could enjoy after a busy night with our toddler. This made 10 donuts for me, and they all baked beautifully.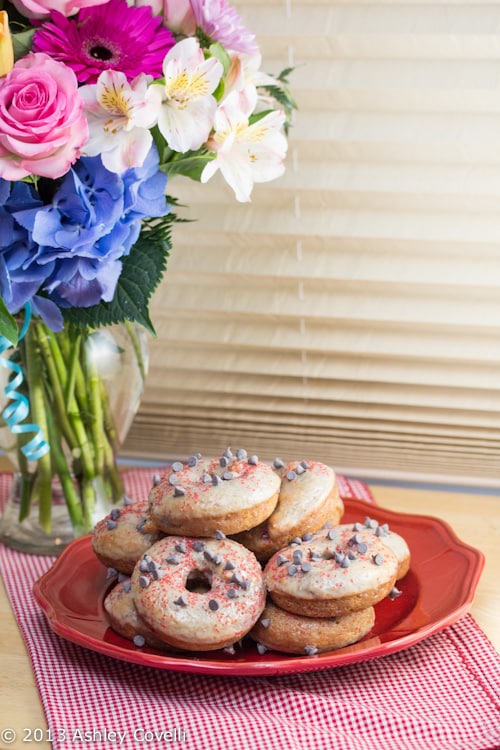 Baked Strawberry Donuts with White Chocolate Ganache
Cookie Dough & Oven Mitt
Ingredients
Strawberry Donuts:
1 egg
1/2 cup milk
4 T. butter, melted
3/4 cup strawberry compote
1 tsp. vanilla
1 1/2 cup all-purpose flour
1/2 cup sugar
1 1/2 tsp. baking powder
1/2 tsp. baking soda
1/2 tsp. salt
Strawberry Compote:
1 cup fresh strawberries, hulled and diced
1/4 cup sugar
White Chocolate Ganache:
1 1/4 cup white chocolate chips
1/2 cup heavy cream
1 T. corn syrup
Instructions
Strawberry Compote:
In a saucepan, over medium heat, add diced strawberries and sugar. Stir occasionally.
After ten minutes I start to help the berries along by mashing them with my spoon.
The compote will have some small pieces in it, if you don't want them in the finish product you can strain them out. The entire process took me about 18 minutes.
After the compote has come to the perfect consistency, take it off the stove and let it cool for about 5 minutes.
Donuts:
Preheat the oven to 425 degrees. Spray the donut pan with non-stick cooking spray.
In a bowl, add the egg and milk. Whisk until blended.
Add the butter, strawberry compote, and vanilla. Whisk until everything is combined.
In a separate bowl, whisk the flour, sugar, baking powder, baking soda, and salt.
Once all the dry ingredients are combined, add a small amount into the wet mixture and whisk.
Keep adding small amounts and whisking until all the dry mixture is incorporated into the batter.
Scoop the batter into a disposable piping bag and cut a small hole into the tip.
Cover the bottom of the pan with the batter. Only fill the donut pans half way. Be sure to not overfill the pans. I like to make a second layer towards the outside of the pan so the donut hole doesn't get covered up. If it does, feel free to cut the hole out with the scissors.
Place into the oven for 8 minutes or until they're done. The bottoms will be golden brown and the tops will be a pale pink.
Let cool in the pan for at least 5 minutes. Place the donuts onto the cooling rack to cool.
Ganache:
In a microwave safe bowl, add the white chocolate chips, corn syrup, and heavy cream.
Place into the microwave for 45 seconds.
Take the bowl out and whisk until everything is combined.
Let cool for 5-10 minutes until the ganache has thickened.
Dip the cooled donuts into the ganache and place them back onto the cooling rack.
Add sprinkles and let dry.
Big Flavors Rating: 4 Stars