This post may contain affiliate links, which won't change your price but will share some commission.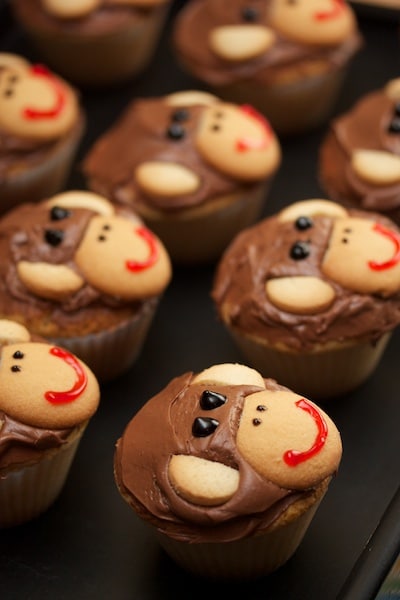 I came across this cupcake decorating idea from Molli526 over on the CLBB a few years ago, and have been waiting for the perfect occasion to make them. I looked up a cupcake and frosting recipe, and then followed the way she decorated them (using regular and mini Nilla Wafers and red and black gel icing) for an unbelievably adorable result. All of the gifts that I gave my friend were monkey themed, and these cupcakes really were a big hit.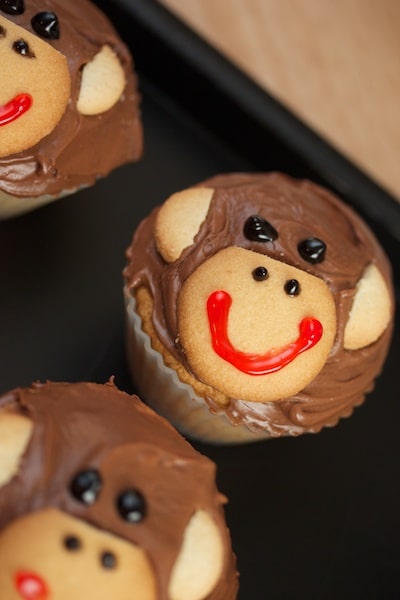 Simple White Cake
Allrecipes - SCOTTOSMAN
Prep Time: 20 Minutes
Cook Time: 30 Minutes
Ready In: 50 Minutes
Servings: 12
"This cake was sent home from our children's school. It is the simplest, great tasting cake I've ever made. Great to make with the kids, especially for cupcakes."
1 cup white sugar
½ cup butter
2 eggs
2 teaspoons vanilla extract
1 ½ cups all-purpose flour
1 ¾ teaspoons baking powder
½ cup milk
Directions:
1. Preheat oven to 350 degrees F (175 degrees C). Grease and flour a 9x9 inch pan or line a muffin pan with paper liners.
2. In a medium bowl, cream together the sugar and butter. Beat in the eggs, one at a time, then stir in the vanilla. Combine flour and baking powder, add to the creamed mixture and mix well. Finally stir in the milk until batter is smooth. Pour or spoon batter into the prepared pan.
3. Bake for 30 to 40 minutes in the preheated oven. For cupcakes, bake 20 to 25 minutes. Cake is done when it springs back to the touch.
Creamy Chocolate Frosting
Allrecipes - Tracy Larsen
Prep Time: 15 Minutes
Ready In: 15 Minutes
Servings: 12
"I've been using this chocolate frosting recipe forever, and several friends now use it as their 'favorite frosting!' It's smooth, creamy and not-too-dark. I just wanted to share it with chocolate lovers everywhere! It will frost, but not fill, an 8 or 9 inch layer cake."
2 ¾ cups confectioners' sugar
6 tablespoons unsweetened cocoa
powder
6 tablespoons butter
5 tablespoons evaporated milk
1 teaspoon vanilla extract
1. In a medium bowl, sift together the confectioners' sugar and cocoa, and set aside.
2. In a large bowl, cream butter until smooth, then gradually beat in sugar mixture alternately with evaporated milk. Blend in vanilla. Beat until light and fluffy. If necessary, adjust consistency with more milk or sugar.
Big Flavors Rating: 4 Stars