This post may contain affiliate links, which won't change your price but will share some commission.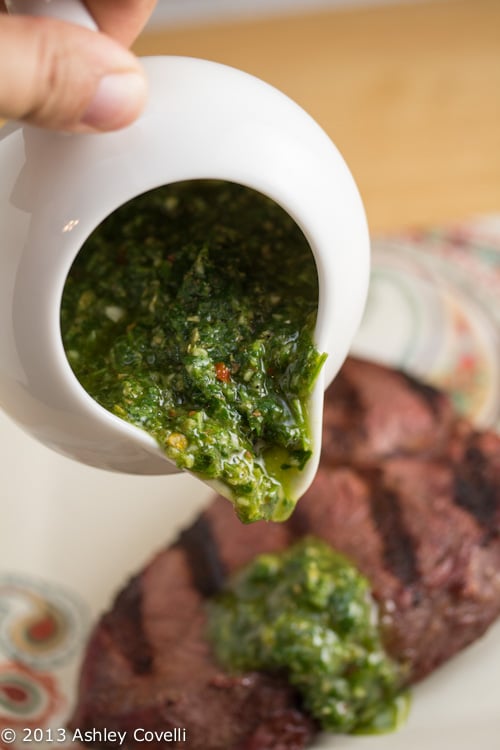 I made a trip to Trader Joes to stock up the freezer with goodies, and I decided to check out the steak selection while I was there. I picked up some top sirloin and decided to do something simple with it for dinner. I was going to make an herbed aioli, but then I remembered that I hadn't made a chimichurri sauce in ages. I love it, and as long as everyone is eating it, the bad breath is totally worth it. This version was nice - I liked the addition of pepper flakes and oregano. I think I prefer chimichurri that also has cilantro in it, but this was definitely good. I let it hang out in the fridge for a few hours before we fired up the grill. I served this with some broccoli that we started cooking on the grill, but when a thunderstorm unloaded on our house, we moved the broccoli inside, and I put it in a skillet with some minced garlic, Penzeys BBQ 3001 and olive oil. The broccoli had a bit of charred flavor from the grill, and it was great dipped in the chimichurri, too!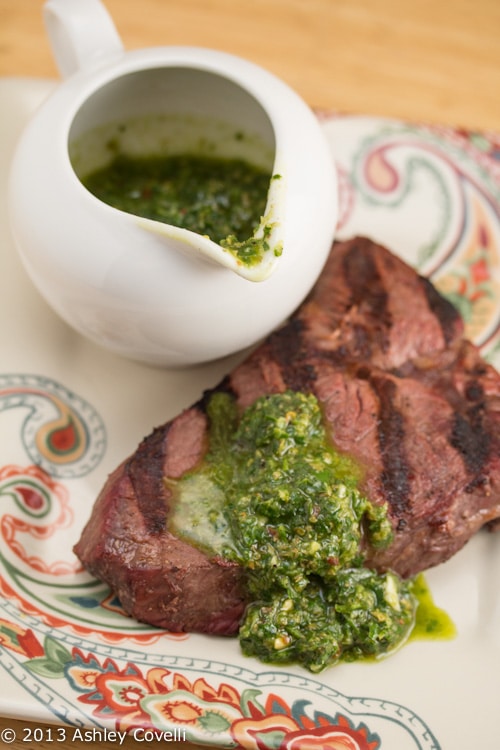 Argentine Chimichurri Sauce
Chow
Difficulty: Easy
Total Time: Under 5 mins, plus chilling time
Active Time: Under 5 mins
Makes: 1 ½ cups
2 cups packed fresh Italian parsley leaves
4 medium garlic cloves, peeled and smashed
¼ cup packed fresh oregano leaves (or 4 teaspoons dried oregano)
¼ cup red wine vinegar
½ teaspoon red pepper flakes
½ teaspoon kosher salt
Freshly ground black pepper
1 cup extra-virgin olive oil
Place parsley, garlic, oregano, vinegar, red pepper flakes, salt, and pepper (to taste) in the bowl of a food processor fitted with a blade attachment. Process until finely chopped, stopping and scraping down the sides of the bowl with a rubber spatula as needed, about 1 minute total.
With the motor running, add oil in a steady stream. Scrape down the sides of the bowl and pulse a few times to combine. Transfer sauce to an airtight container and refrigerate at least 2 hours or up to 1 day to allow the flavors to meld. Before serving, stir and season as needed. The chimichurri will keep in the refrigerator for up to 1 week.
Big Flavors Rating: 4 Stars