This post may contain affiliate links, which won't change your price but will share some commission.
When we lived with my in-laws, we had fritters pretty frequently. My father-in-law loves making vegetable fritters, especially with asparagus. So when I came across this recipe for zucchini fritters, I knew I wanted to try them out at home.
Plus, any food served with a dip is just guaranteed to be more fun, right?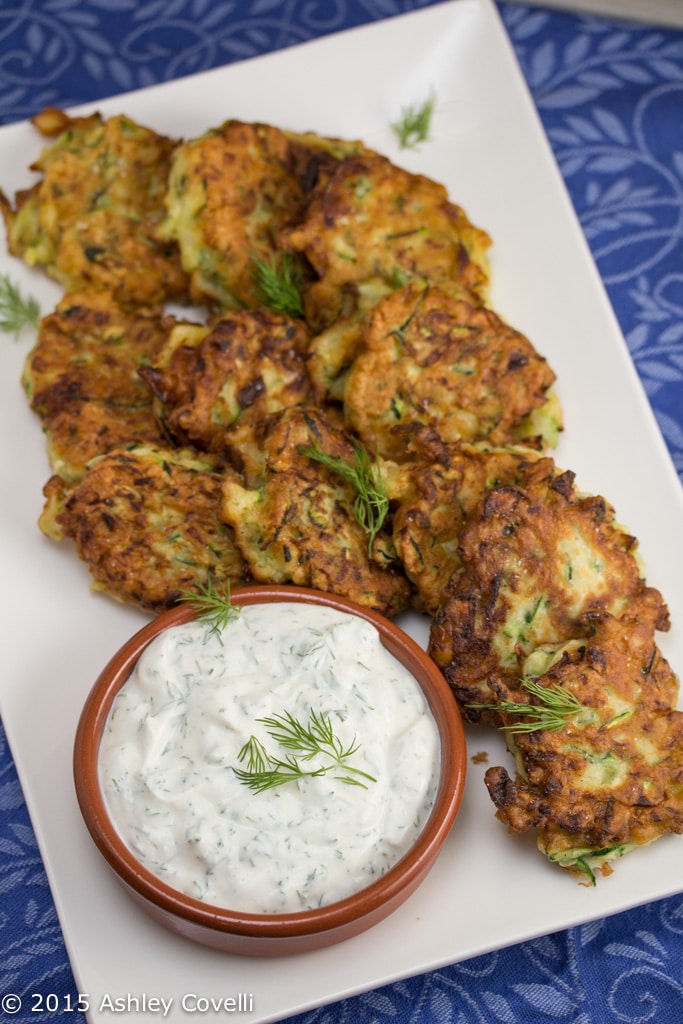 These fritters are light and fluffy and go beautifully with the tangy Greek yogurt-dill dipping sauce. I called them "zucchini pancakes" and my toddler gobbled them up. Bonus!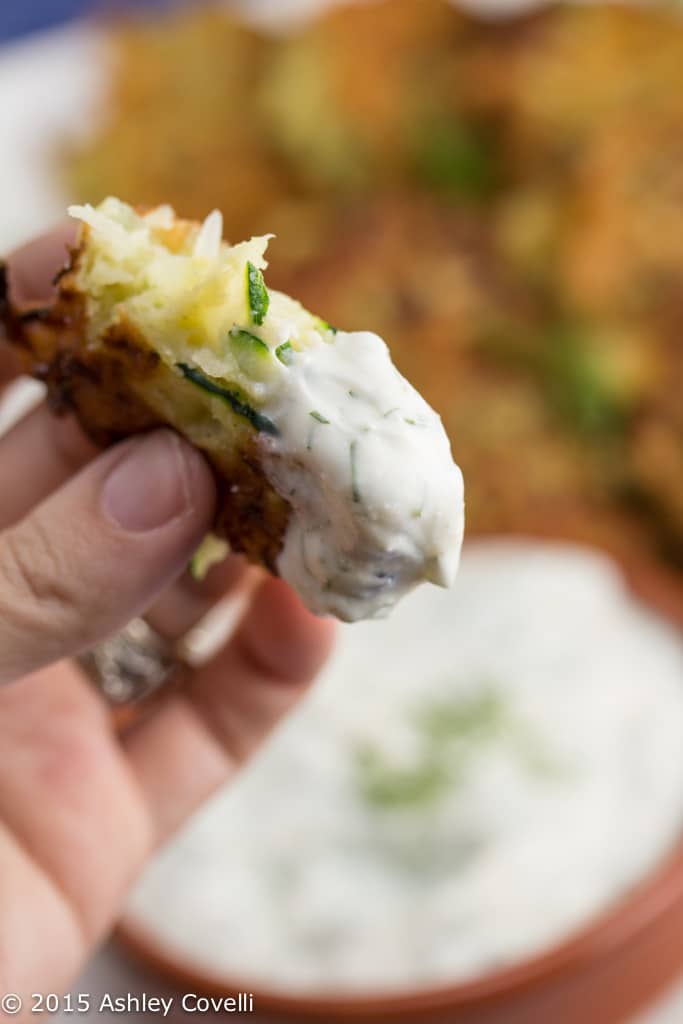 I had planned to take some of the leftover fritters and eat them with a fried egg later in the week, but they didn't last long. Ahem.
Zucchini Fritters with Yogurt-Dill Sauce
Jim Botsacos of New York City's Molyvos restaurant (via Martha Stewart)
SERVINGS: 12
1 cup all-purpose flour
1 ¼ teaspoons baking powder
Coarse salt and freshly ground black pepper
3 medium zucchini
1 medium onion, halved
2 tablespoons Greek-style plain full-fat yogurt
1 large egg, lightly beaten
½ cup olive oil, plus more as needed
Yogurt-Dill Sauce, for serving (recipe follows)
In a small bowl, whisk together flour, baking powder, and ⅛ teaspoon salt; set aside.
Grate onion on the large holes of a box grater into a medium bowl. Transfer grated onion to a piece of cheese cloth. Squeeze excess liquid from onion and discard. Transfer onion to a clean medium bowl; you should have about ½ cup grated onion. Grate zucchini into bowl with onion on the large holes of a box grater; you should have about 3 ½ cups grated zucchini. Add ½ teaspoon salt and toss to combine; let stand 30 seconds.
Transfer zucchini and onion mixture to a clean piece of cheesecloth and cover. Squeeze out as much liquid as possible and discard. Transfer zucchini and onion to a large bowl. Add yogurt and egg; season with salt and pepper. Stir until well combined.
Slowly add ¾ cup of the flour mixture, while folding it into the zucchini mixture. If mixture seems too wet, fold in ¼ cup more.
Heat olive oil in a medium skillet over medium-high heat. Working in batches, using about 3 tablespoons of the zucchini mixture, gently form a patty and place in skillet. Cook until fritters are firm and begin to turn golden on the bottom, about 2 minutes. Turn fritters and continue to cook about 2 minutes more. Turn fritters again and cook for 30 seconds; transfer to a paper towel-lined plate. Repeat process with remaining zucchini mixture, adding more oil as necessary.
Season fritters with salt and serve immediately with yogurt-dill sauce.
Yogurt-Dill Sauce
YIELD: MAKES ENOUGH FOR 12 FRITTERS
1 cup Greek-style plain full-fat yogurt
2 tablespoons milk
3 tablespoons fresh chopped dill
Coarse salt and freshly ground white pepper
Mix together yogurt and milk in a small bowl until well combined. Fold in dill; season with salt and pepper. Keep refrigerated until ready to use.
Big Flavors: 4 Stars