This post may contain affiliate links, which won't change your price but will share some commission.
I actually made this recipe once before, on Christmas. I didn't get a photo of it that day, and it was just so easy and tasty that I decided to make it again tonight. This time I changed a few things - I used a 10 ounce box of frozen spinach, about 1 ½ cups of reduced fat plain yogurt and sliced French bread instead of pita. This recipe is seriously tasty! The sweetness of the caramelized onion is the perfect compliment to the spinach, and the garlic gives it just enough kick. The yogurt cools everything off and brings it together. This is a big winner!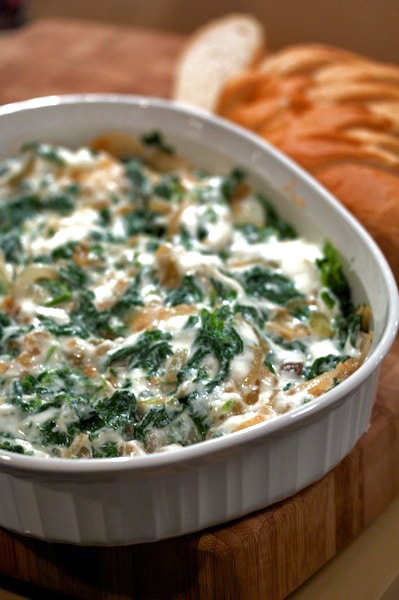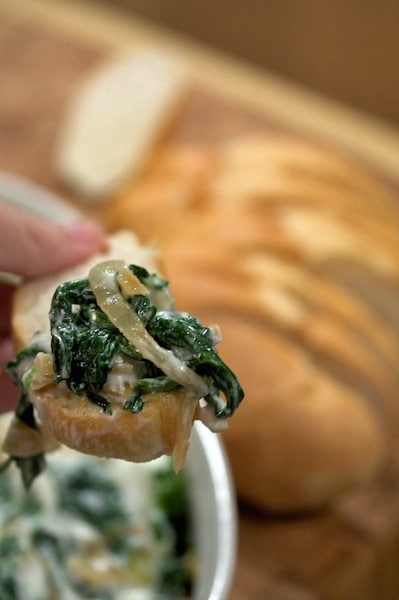 Spinach and Yogurt Dip with Caramelized Onion
Small Bites: Tapas, Sushi, Mezze, Antipasti, and Other Finger Foods - Jennifer Joyce
This exotic Persian dip is wonderfully rich because of the slowly caramelized onion, but the yogurt and spinach keep it tasting fresh and healthy.
12 oz (350 g) fresh spinach, chopped
1 teaspoon salt
2 tablespoon olive oil
2 large yellow onions, finely sliced
2 garlic cloves, crushed
1 cup plain, natural full-fat yogurt
Pita bread, to serve
1. Place the spinach in a covered saucepan with the salt, and heat gently for 2 minutes, until it wilts. Drain and rinse with cold water, then squeeze off any excess water with your hands, until dry.
2. Place the oil in a small frying pan, add the onions and garlic, and sauté slowly for about 20 minutes, until golden brown. It's important to cook until caramelized to bring out the sweet flavor. Remove from heat, set aside, and allow to cool completely.
3. In a mixing bowl, combine the onion mixture, yogurt, and spinach. Season with salt and pepper. Refrigerate, then serve with warm pita bread.
Prepare ahead
Cook the onions and spinach on the morning of the same day you plan to serve them, but don't mix them with the yogurt until 2 hours before serving.
MacGourmet Rating: 5 Stars