This post may contain affiliate links, which won't change your price but will share some commission.
I picked up a bag of frozen langostinos a few weeks ago, and wasn't exactly sure what I was going to do with them. I was going to do a scampi type dish, but then I came across this recipe over on Foodiecrush. It takes some time, but it's so worth it. The roux takes a bit to get nice color, and it's key to make sure you get it to that point to ensure great flavor in the final dish. I wasn't clear if the bay leaves in the ingredients were supposed to go into the pot with everything, or if they were for the rice (she mentions that she served it over rice that had been cooked with 2 bay leaves in the water for extra flavor), so I just put them in with the rice. This was a nice, warm, spicy bowl of comfort food that really hit the spot on a chilly autumn evening. I need to try cooking Cajun food more often!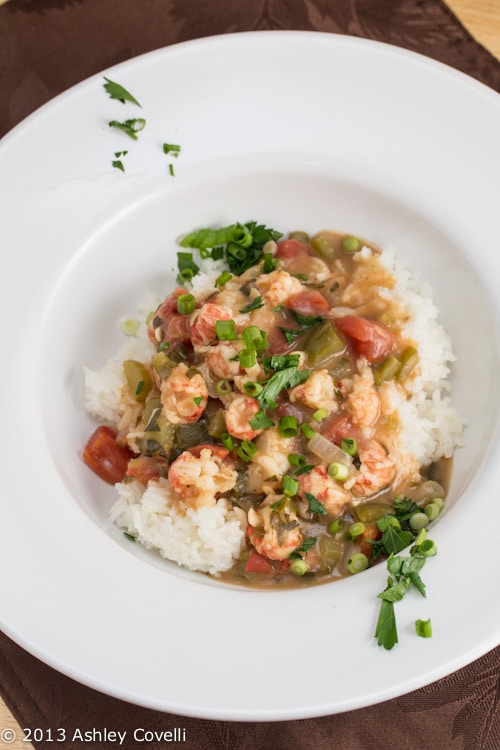 Lobster Etouffee
Foodiecrush (adapted from Paula Deen and Emeril Lagassee)
¼ cup oil
¼ cup butter plus 4 tablespoons butter reserved
½ cup flour, plus extra flour as needed to form a paste
1 ½ cup chopped yellow onion
1 cup chopped celery
½ cup chopped green bell pepper
3 garlic cloves, minced
2 bay leaves
½ teaspoon black pepper
½ teaspoon white pepper
½ teaspoon cayenne pepper or to taste
1 teaspoon Cajun seasoning or to taste
3-5 dashes hot sauce or to taste
1 8-ounce jar clam juice
1 14.5-ounce can diced tomatoes
3 cups chicken stock
1 teaspoon salt
1 pound or 4 cups langostinos (can substitute crawfish or shrimp)
½ cup minced green onions, plus extra for garnish
½ cup minced fresh parsley leaves
1. To make the roux, melt butter with oil in a large heavy saucepan over low heat. Whisk flour into the oil to form a paste and cooking over low heat and whisk continuously, until the mixture turns a caramel color and gives off a nutty aroma, about 15 to 20 minutes.
2. Add the onion, green pepper, celery, and garlic and cook over low heat until the vegetables are limp, about 5 minutes.
3. Add the black pepper, white pepper, cayenne pepper, Cajun seasoning, green onions, parsley, and hot sauce to taste. Add clam juice, chicken broth, tomatoes with their juice and salt to taste. Bring to a boil, reduce the heat to low and simmer for 10 to 15 minutes until mixture thickens.
4. Add lobster meat and cook for 3-5 minutes careful not to overcook. Remove from heat and add the 4 tablespoons reserved butter and stir to melt. Garnish with the green onions, parsley and serve over steamed rice.
Big Flavors Rating: 4 Stars