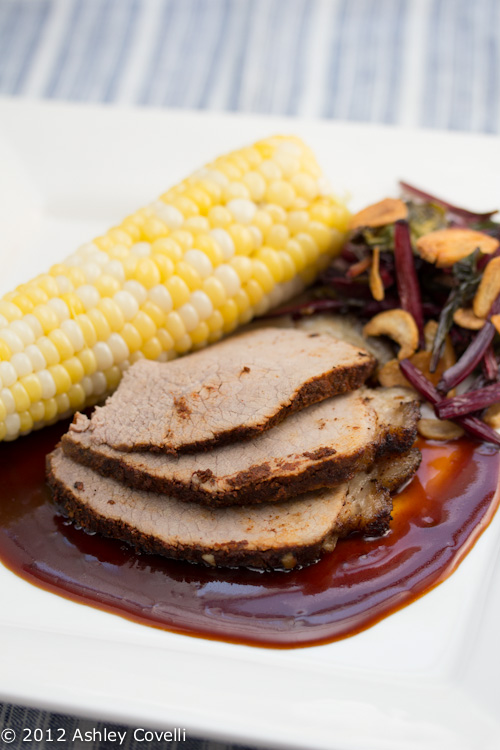 This post may contain affiliate links, which won't change your price but will share some commission.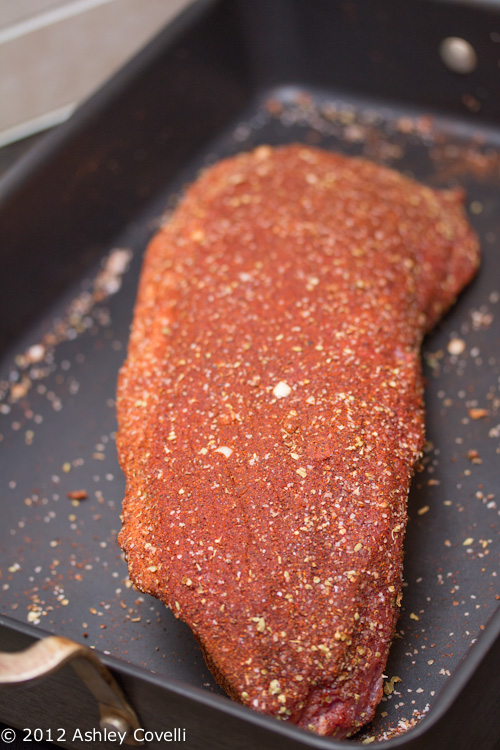 For the main course in my in-laws' birthday celebration, we decided to make this Lazy Texas Brisket again. This time around, we weren't able to find a brisket, so we got a nice grass-fed top eye round roast from the Farmers' Market. We also used some garlic from our garden in the rub. Dino wanted to revamp the barbecue sauce, and it turned out extremely well. The roast we got was on the small side, and we overcooked it a bit, but it was still nice and juicy, and the sauce helped it out, too.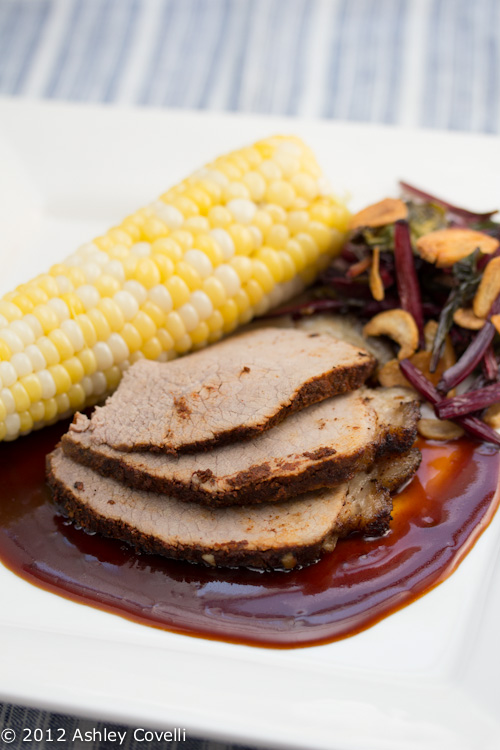 Lazy Texas Brisket
Bon Appétit August 1982
1 large garlic clove, minced
1 4- to 5-pound beef brisket
1 tablespoon chili powder
1 teaspoon paprika
1 teaspoon salt
1/2 teaspoon ground cumin
1/2 teaspoon dried sage, crumbled
1/2 teaspoon sugar
1/2 teaspoon ground oregano
1/4 teaspoon ground red pepper
1/4 teaspoon freshly ground pepper
Broncbuster's Barbecue Sauce
Preheat oven to 325°F. Rub garlic into both sides of brisket. Combine all remaining ingredients except barbecue sauce in small bowl and mix well. Rub into brisket. Set brisket fat side up on large piece of foil and wrap tightly. Transfer to shallow roasting pan. Bake until tender, about 3 hours. Serve hot or cold with sauce.
Dino's BBQ Sauce:
INGREDIENTS
1 cup cider vinegar
1/4 cup yellow (ballpark) mustard
1 teaspoons salt
1 1/2 cups brown sugar (or 1 cup brown sugar, 1/2 cup honey)
shot of lemon juice
1/2 stick of butter
1 tsp cayenne pepper
DIRECTIONS
Bring to a boil then simmer, uncovered until it reduces to a thickness of your liking.
Big Flavors Rating: 5 Stars