This post may contain affiliate links, which won't change your price but will share some commission.
Switch up your meat and potatoes game with this West African-inspired meal.
My family loves a good steak dinner. Even my 5-year-old enjoys a nice piece of medium-rare beef. A lot of times, I like to leave my steak simple - seasoned with salt and pepper, seared for a nice crust on the outside with a beautiful pink inside.
But a while back, one of the recipes in the Blue Apron order that I placed called for grains of paradise as a spice crust for sirloin steak. I hadn't cooked with grains of paradise before, so I decided that this would be the perfect way to try it out without having a big jar of leftover spices.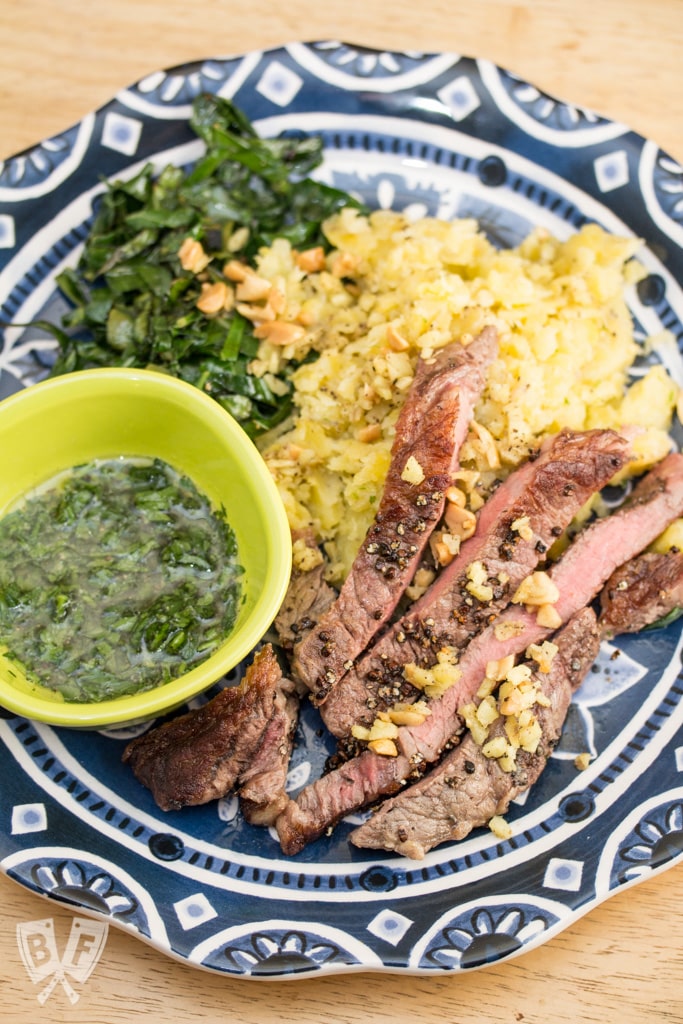 We really enjoyed the flavor of the grains of paradise - it was mildly peppery with a hint of a citrus. Very interesting, and something I'd like to use in other recipes.
This dish ended up being a huge hit at the dinner table! We really enjoyed this preparation of plantains - it was a nice change of pace from rice or mashed potatoes.
The acidity of the herb sauce added a much needed tanginess to the tender steak, and the ginger-y peanuts made a wonderfully crunchy topping. I found myself mixing the collard greens into the plantains for each bite, topping it with some steak and dunking it into the sauce. It was a really well balanced meal that I'd love to make again.
2 Top Sirloin Steaks
1 Black Plantain
1 Bunch Collard Greens
1 Lime
1 Bunch Parsley
2 Tablespoons Peanuts
1 Tablespoon Butter
1 1-Inch Piece Ginger
1 Teaspoon Grains Of Paradise
See Blue Apron for the full recipe.