This post may contain affiliate links, which won't change your price but will share some commission.
I like gazpacho a lot, but I've never made it myself. I guess I was waiting for an opportunity like the one I just had - my mother-in-law gave me a bunch of tomatoes from one of her friends' gardens. They were really ripe, so I knew that now was the time to finally try it out. I came across this post over on Simply Recipes, and it looked perfect! I followed the recipe except for peeling the tomatoes. I skipped that. And I added about twice the recommended amount of hot sauce. It turned out sooooooo perfectly. Really nice and fresh and delicious. This will definitely be my go-to gazpacho recipe from now on. It made a ton, and it gets better and better the longer it sits. Yum! I'd like to try this with homemade tomato juice and without the Worcestershire to see if it's as good raw and vegetarian/vegan as it is without those tweaks.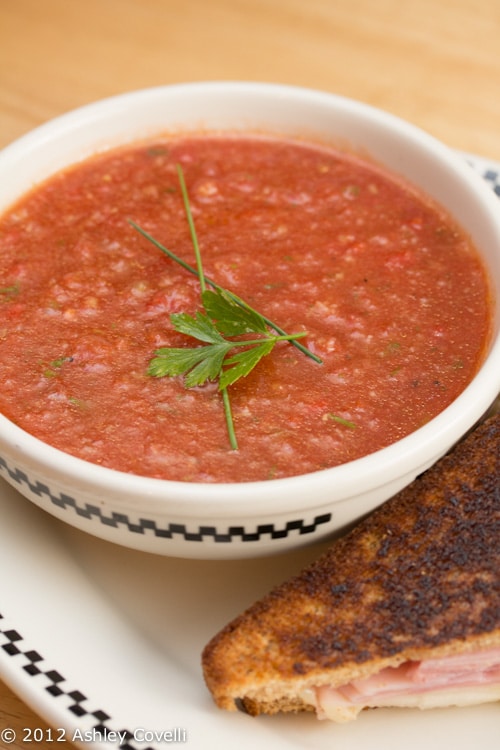 Gazpacho
Simply Recipes
Gazpacho soup was invented for the summer. Refreshingly cold on hot summer days, this adaptation of the classic Spanish cold tomato soup deliciously combines the best of summer vegetables. Make sure you only use the freshest, highest quality ingredients for this soup.
Prep time: 15 minutes
6 ripe tomatoes, peeled and chopped
1 purple onion, finely chopped
1 cucumber, peeled, seeded, chopped
1 sweet red bell pepper (or green) seeded and chopped
2 stalks celery, chopped
1-2 tablespoon chopped fresh parsley
2 tablespoon chopped fresh chives
1 clove garlic, minced
¼ cup red wine vinegar
¼ cup olive oil
2 tablespoon freshly squeezed lemon juice
2 teaspoons sugar
Salt and fresh ground pepper to taste
6 or more drops of Tabasco sauce to taste
1 teaspoon Worcestershire sauce (omit for vegetarian option)
4 cups tomato juice
Combine all ingredients. Blend slightly, to desired consistency. Place in non-metal, non-reactive storage container, cover tightly and refrigerate overnight, allowing flavors to blend.
Yield: Serves 8.
Big Flavors Rating: 5 Stars